Turmeric baked chicken
with roasted cauliflower and parsley tzatziki
RECIPE FACT:
Did you know the olive tree is one of the oldest cultivated trees in history?
Nutritional Info:
Energy: 2106kj (503Kcal)
Protein: 36g
Carbohydrate: 28g
Fat: 22g
Contains: Milk
Serving Amount:
Serves 2 people
Cooking Instructions:
Before cooking:

PREHEAT THE OVEN TO 210⁰C (FAN BAKE).

1. TO PREPARE THE VEGETABLES:

Line an oven tray with baking paper. Chop the cauliflower into small bite sized pieces and place on the oven tray with the steamed kumara. Spray with oil and season with salt.

2. TO COOK THE CHICKEN AND VEGETABLES:

Open the pack of free-range chicken thighs and pat dry with a paper towel. Place on the oven tray with the vegetables and spoon on the turmeric marinade ensuring both sides of chicken are coated well, season with salt and place in the oven. Cook for 20-22 mins until chicken is cooked through.

3. TO PREPARE THE SALAD:

Thinly slice the olives and place in a salad bowl with the rocket. Drizzle with 1 tsp of olive oil and toss to combine.

TO SERVE:

Place roasted vegetables onto plates and top with turmeric chicken thighs. Dollop with parsley tzatziki and serve rocket and olive salad on the side.
Ingredients
In your box:
1 pack of free-range chicken thighs
1 pack of steamed kumara
1 pot of turmeric marinade
1 pot of parsley tzatziki
1 pot of green olives
Cauliflower
1 bag of rocket
SHARE YOUR CREATION WITH US!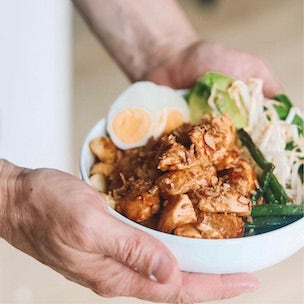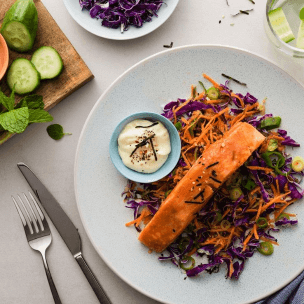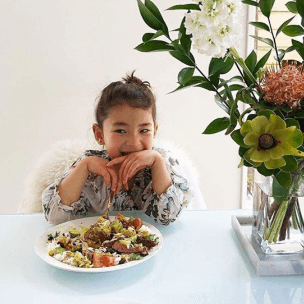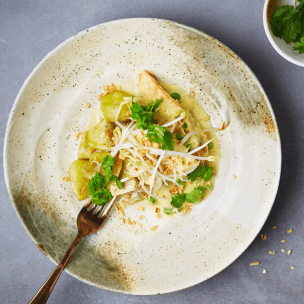 use the hashtag #woopnz to be featured