Turkish pan-fried halloumi
with pomegranate beetroot and babaganoush
RECIPE FACT:
Beetroot originates from the sea and was eaten by the ancient Greeks who only ate the leaves and not the beetroot.
Nutritional Info:
Energy: 3105kj (742Kcal)
Protein: 29g
Carbohydrate: 20g
Fat: 57g
Contains: Milk, Sesame
Serving Amount:
Serves 2 people
Cooking Instructions:
TO PREPARE THE HALLOUMI:

Slice the halloumi into 1 cm slices. Place in a bowl with the Turkish marinade and turn to coat evenly.

2. TO PREPARE THE RAW ENGERGY SALAD:

Peel the carrot and make ribbons by running a peeler the full length along the carrot, rotating after each peel. Place in a salad bowl with the grated beetroot and mesclun. Remove the mint leaves from their stalks, roughly chop and add to the bowl. Pour in the pomegranate dressing, season with salt and pepper and toss to combine.

3. TO COOK THE TURKISH HALLOUMI:

Place a non-stick frying pan over a medium-high heat. Once hot add the halloumi and cook for 2-3 mins on each side – adjusting the heat to not burn the marinade.

TO SERVE:

Spoon raw energy salad into bowls and top with Turkish halloumi slices. Dollop with babaganoush and sprinkle with toasted seeds and raisins.
Ingredients
In your box:
1 pack of halloumi
1 pot of Turkish marinade
1 pot of babaganoush
1 pot of pomegranate dressing
1 sachet of toasted seeds and raisins
1 bag of grated beetroot
1 carrot
1 bag of mesclun
1 bag of mint
SHARE YOUR CREATION WITH US!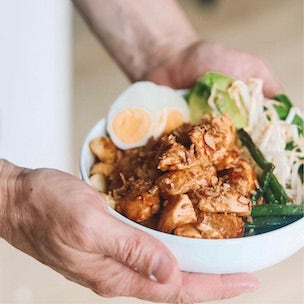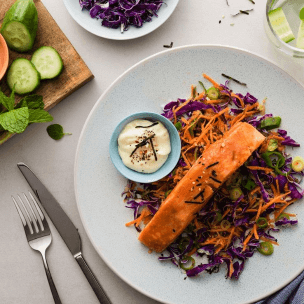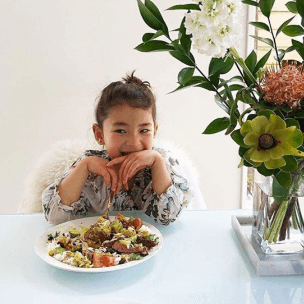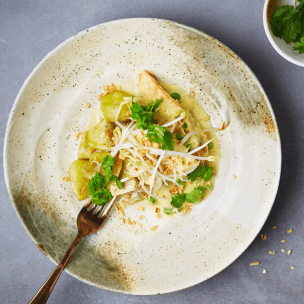 use the hashtag #woopnz to be featured