Turkish lamb steaks
with babaganoush and raw food salad
RECIPE FACT:
Our raw food salad delivers loads of nutrients and is a great way to get your veggie quota in!
Nutritional Info:
Energy: 2379kj (568Kcal)
Protein: 28g
Carbohydrate: 17g
Fat: 40g
Contains: Sesame
Serving Amount:
Serves 4 people
Cooking Instructions:
1. To prepare the raw food salad:

Peel and grate the carrot. Mix in a salad bowl with the grated beetroot and the orange dressing. Season with salt and pepper to taste. Remove the mint leaves from their stalks and add to the salad bowl. Toss the mesclun through the salad just before serving.

2. TO COOK THE LAMB:

Spray oil into a non-stick frying pan and place over a high heat. Once the pan is very hot add the Turkish spiced lamb steaks, season with salt and cook for 2-3 mins on each side for medium rare – a little longer for well done. Allow to rest for 1-2 mins before slicing.

TO SERVE:

Arrange raw food salad on plates and top with sliced Turkish lamb. Open the babaganoush, stir with a spoon and dollop onto lamb. Sprinkle over golden sultanas and sunflower seeds.
Ingredients
In your box:
1 pack of Turkish spiced lamb steaks
1 pot of babaganoush
1 pot of orange dressing
1 sachet of golden sultanas and sunflower seeds
1 bag of mesclun
1 bag of grated beetroot
2 carrots
1 bag of mint
SHARE YOUR CREATION WITH US!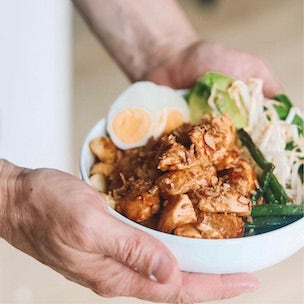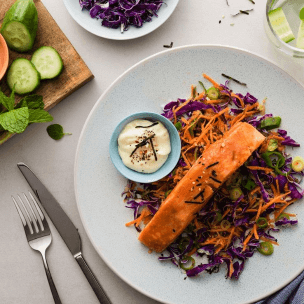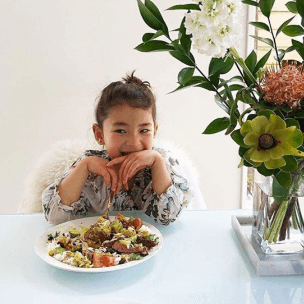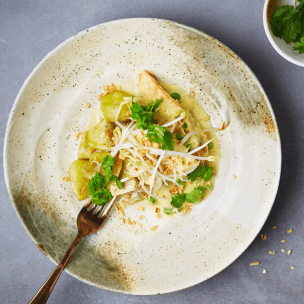 use the hashtag #woopnz to be featured