Truffle bechamel gnocchi
with grillled asparagus and toasted almonds
RECIPE FACT:
There are over 100 different truffle varieties and the best truffles are the ones that are ready between late winter and early spring.
Nutritional Info:
Energy: 2258kj (539Kcal)
Protein: 50g
Carbohydrate: 49g
Fat: 20g
Contains: Gluten, Milk & Tree Nuts
Serving Amount:
Serves 4 people
Cooking Instructions:
Before cooking

Bring a pot of salted water to the boil over a high heat.

1. TO COOK THE GNOCCHI:

Once the water is boiling add the gnocchi to the water and cook for 2-3 mins or until gnocchi floats to the top. Drain well into a colander and drizzle with olive oil to stop it from sticking. Remove the Italian parsley leaves from their stalks and roughly chop, set aside.

2. TO COOK THE ASPARAGUS:

Snap the woody ends off the asparagus and discard – they will naturally snap in the right place. Place a non-stick frying pan over a medium-high heat with a drizzle of olive oil. Once hot add the asparagus, season with salt and cook for 8-10 mins turning regularly. Remove from the pan and cover to keep warm.

3. TO PREPARE THE TRUFFLE BECHAMEL GNOCCHI:

Wipe out the pan and place back over a medium heat with a drizzle of oil. Once hot add the gnocchi, pour in the truffle bechamel sauce and cook for 1-2 mins. Add the peas and baby spinach and cook for a further 1-2 mins until spinach is starting to wilt. Season with salt and pepper.

TO SERVE:

Spoon truffle bechamel gnocchi onto plates. Serve with grilled asparagus on the side and sprinkle with toasted almonds and chopped parsley.
Ingredients
In your box:
1 pack of potato gnocchi
1 pot of truffle bechamel sauce
1 sachet of toasted almonds
2 bunches of asparagus
1 pot of peas
1 bag of baby spinach
1 bag of Italian parsley
SHARE YOUR CREATION WITH US!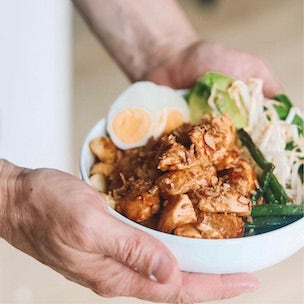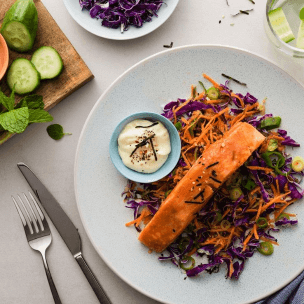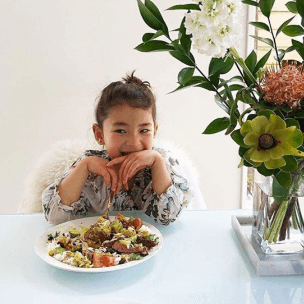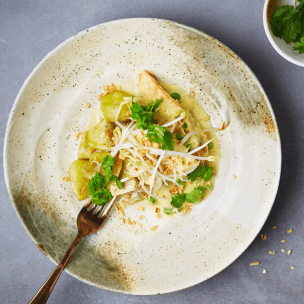 use the hashtag #woopnz to be featured