Tomato and coconut chickpeas
with baby kale and cucumber raita
RECIPE FACT:
Chickpeas are high in protein and are a great alternative to meat in a vegetarian or plant-based diet.
Nutritional Info:
Energy: 2341kj (559Kcal)
Protein: 19g
Carbohydrate: 74g
Fat: 18g
Contains: Milk
Serving Amount:
Serves 2 people
Cooking Instructions:
1. TO PREPARE THE CUCUMBER RAITA:

Place yoghurt in a bowl. Grate half the cucumber squeezing out any liquid by pressing firmly against a sieve. Remove the mint leaves from their stalks, roughly chop and add half to the raita, season well with salt and stir to combine.

2. TO HEAT THE BROWN RICE:

Spray a non-stick frying pan with oil and place over a medium-high heat. Open the bag of steamed brown rice, squeezing gently on the bag to break up any large clumps and add the pan. Cook for 2-3 mins stirring regularly until hot. Season with salt, remove from the pan and cover to keep warm.

3. TO PREPARE THE TOMATO AND COCONUT CHICKPEAS:

Place the chickpea into a sieve, rinse under running water and drain well. Place a non-stick frying pan over a medium-high heat with a drizzle of oil. Once hot add the chickpeas and cook for 1-2 min. Pour in the tomato and coconut sauce and cook for 2-3 mins. Add the baby kale and stir through until just starting to wilt. Season with salt and pepper.

TO SERVE:

Spoon brown rice into bowls and top with tomato and coconut chickpeas. Dollop with cucumber raita, sprinkle with toasted shallots and hemp seeds and remaining mint.
Ingredients
In your box:
1 tin of chickpeas
1 pack of steamed brown rice
1 pot of tomato and coconut sauce
1 pot of yoghurt
1 sachet of toasted shallots and hemp seeds
Cucumber
1 bag of baby kale
1 bag of mint
1 bag of baby spinach
SHARE YOUR CREATION WITH US!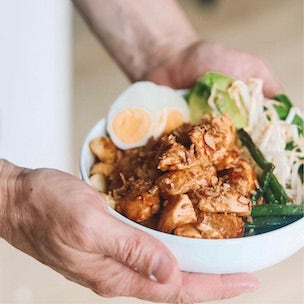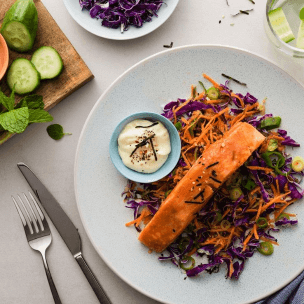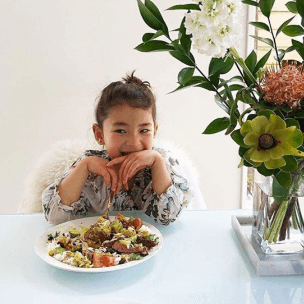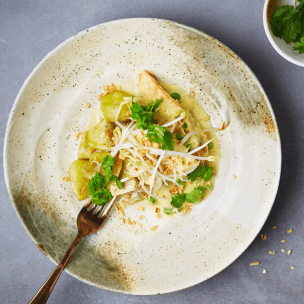 use the hashtag #woopnz to be featured