Thai yellow chicken curry
RECIPE FACT:
Thailand is home to a fish that can walk on land, its known as the blind, waterfall-climbing cavefish.
Nutritional Info:
Energy: 2259kj (539Kcal)
Protein: 46g
Carbohydrate: 13g
Fat: 33g
Contains: Tree Nuts, Peanuts, Sesame, Fish
Serving Amount:
Serves 4 people
Cooking Instructions:
1. TO COOK THE RICE:

Empty the basmati rice into a medium sized pot with a tight-fitting lid and add 500 mls of warm water. Place pot on stovetop and bring to the boil over a high heat. Once the rice is boiling place lid on the pot and reduce the heat to low and cook for 12 mins. Turn off the heat and let stand for 4 mins covered. Finely chop the coriander leaves and stalk. Remove the lid and fluff the rice with a fork and mix through coriander.

2. TO PREPARE THE CHICKEN:

Remove diced chicken breasts from their packaging and pat dry with a paper towel. Heat 1 tbsp of cooking oil in a large non-stick frying pan. Add diced chicken and cook for 4-5 minutes, turning to cook on all sides.

3. TO FINISH THE CURRY:

Add the Thai yellow curry paste to the chicken and cook for 1 min. Add the coconut milk and bring up to a simmer. Add peas and diced carrot. Reduce heat to medium and cook for 5 mins, season with salt.

TO SERVE:

Divide rice between plates. Spoon over Thai yellow chicken curry. Sprinkle over toasted cashew nuts and garnish with mung bean sprouts on top.
Ingredients
In your box:
1 pack of diced free-range chicken breast
1 pack of basmati rice
1 pack of coriander
1 pot of peas
1 pack of diced carrot
1 pack of mung bean sprouts
1 sachet of toasted cashew nuts
1 pot of Thai yellow curry Paste
Coconut milk
SHARE YOUR CREATION WITH US!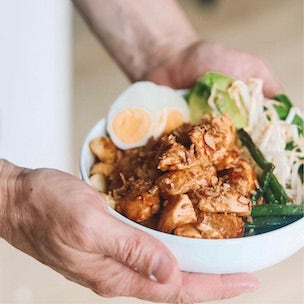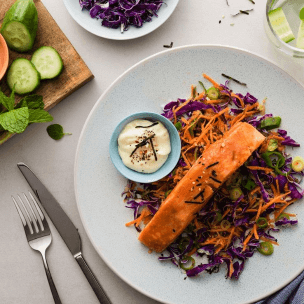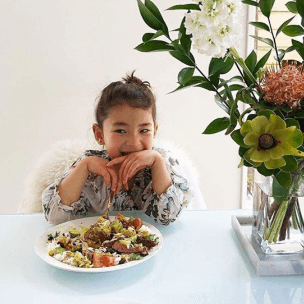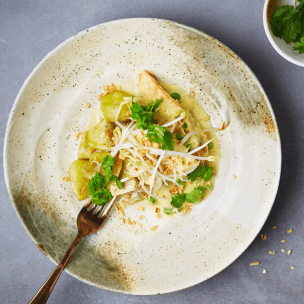 use the hashtag #woopnz to be featured