Lemongrass chicken patties
with stir-fried peanut rice
RECIPE FACT:
Peanuts contain useful amounts of protein as well as carbohydrate and healthy fats
Nutritional Info:
Energy: 2169kj (518Kcal)
Protein: 47g
Carbohydrate: 48g
Fat: 14g
Contains: Fish, Peanut, Soy, Gluten, Milk
Serving Amount:
Serves 1 person
Cooking Instructions:
1. TO PREPARE THE VEGETABLES:

Using half the carrot, peel and make ribbons by pulling the peeler full length along the carrot, rotating after each peel. Rinse the bok choy under running water and shake dry. Cut off the root and slice the stalks into 1 cm slices and roughly chop the leaves keeping separate. Roughly chop the coriander including the stalks.

2. TO COOK THE CHICKEN MINCE

Thinly slice the spring onion. Remove the free-range chicken mince from its packaging and mix in a bowl with the lemongrass paste and spring onion. Season with salt and form into 2 patties. Spray oil into a non-stick frying pan and place over a medium-high heat. Once the pan is hot add the chicken patties and cook on each side for 3-4 mins or until cooked through. Remove from the pan and cover to keep warm.

3. TO COOK THE STIR-FRIED PEANUT RICE:

Re-spray oil into the frying pan and place over a medium heat. Add the bok choy stalks and carrot ribbons and cook for 1 min. Add the steamed brown rice, bok choy leaves and peas. Warm for 2-3 mins. Fold through the peanut dressing. Season with salt to taste.

To serve:

Arrange peanut stir-fried rice onto a plate. Top with chicken patties and sprinkle over toasted peanuts and coriander.
Ingredients
In your box:
1 pack of free-range chicken mince
1 pack of steamed brown rice
1 pot of lemongrass paste
1 pot of peanut dressing
1 sachet of toasted peanuts
1 pot of peas
1 Carrot
1 bag of Bok choy
1 Spring Onions
1 bag of coriander
SHARE YOUR CREATION WITH US!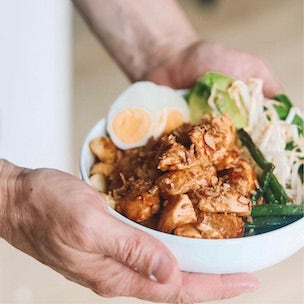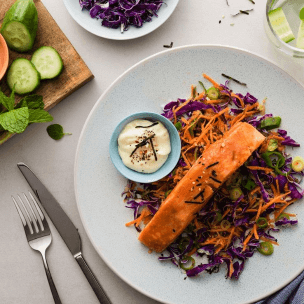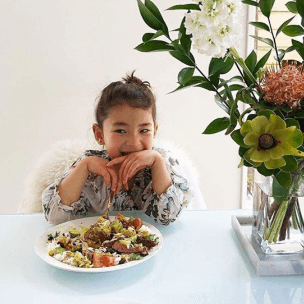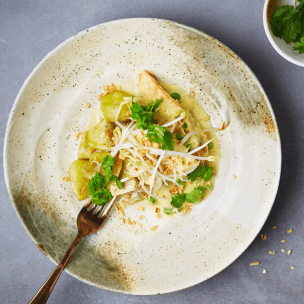 use the hashtag #woopnz to be featured