RECIPE FACT:
Teriyaki Japanese, from teri meaning gloss and yaki meaning to fry or grill.
Nutritional Info:
Energy: 3391kj (810Kcal)
Protein: 53g
Carbohydrate: 84g
Fat: 29g
Contains: Soy, Gluten, Sesame, Egg
Serving Amount:
Serves 4 people
Cooking Instructions:
1. TO COOK THE RICE:

Empty the basmati rice into a medium sized pot with a tight-fitting lid and add 250 mls of warm water. Place pot on stovetop and bring to the boil over a high heat. Once the rice is boiling place lid on the pot and reduce the heat to low and cook for 12 mins. Turn off the heat and let stand for 4 mins covered. Remove the lid and fluff the rice with a fork.

2. TO PREPARE THE VEGETABLES:

Remove any damaged leaves from the bok choy and discard. Rinse any dirty leaves under cold water then slice into 1 cm slices. Cut the courgettes in half lengthways then slice on the diagonal into ½ cm slices. Heat 1 tbsp of oil in a large non-stick frying pan. When the pan is hot add the bok choy, courgette and edamame beans and stir fry for 2-3 mins. Stir through cooked rice.

3. TO COOK THE CHICKEN:

Remove the free-range chicken breasts from their packaging and pat dry with a paper towel. Cut each chicken breast in half horizontally by holding flat on a board and slicing through sideways. Heat 2 tbsps of cooking oil in a non-stick frying pan over a medium-high heat. Once hot add the chicken pieces and cook on each side for 3-4 mins. Turn the heat off then pour over the teriyaki glaze and allow it to sizzle onto the chicken. Remove chicken and sauce from the pan and cover to keep warm.

TO SERVE:

Heap stir fried rice on plates and top with teriyaki chicken pieces. Spoon over remaining teriyaki glaze. Spoon over sesame mayo and sprinkle with sesame and shallot sprinkle.
Ingredients
In your box:
1 pack of free-range chicken breasts
1 pot of edamame beans
1 pack of basmati rice
1 pack of bok choy
2 courgettes
1 pot of teriyaki glaze
1 sachet of sesame & shallot sprinkle
1 pot of sesame mayo
SHARE YOUR CREATION WITH US!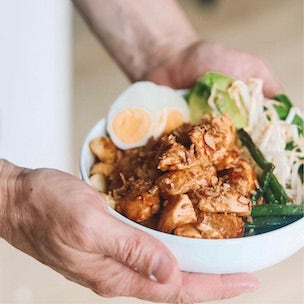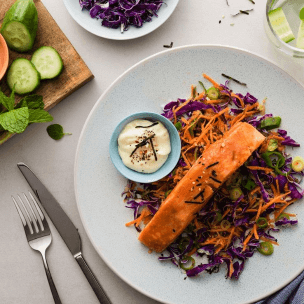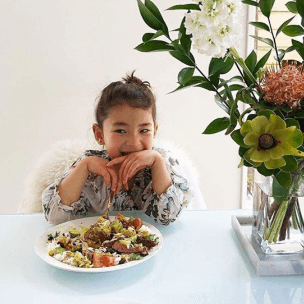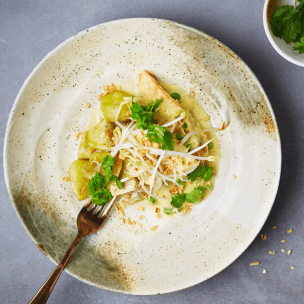 use the hashtag #woopnz to be featured