Teriyaki katsu salmon
with Asian slaw and steamed rice
RECIPE FACT:
The word, teriyaki is a combination of two Japanese words "teri" and "yaki." Teri means luster, and yaki means grill or broil.
Nutritional Info:
Energy: 3593kj (858Kcal)
Protein: 38g
Carbohydrate: 88g
Fat: 38g
Contains: Fish, Gluten, Sesame, Soy, Egg
Serving Amount:
Serves 4 people
Cooking Instructions:
Before cooking:

Preheat the oven to 210℃ (fan bake).

1. TO COOK THE RICE:

Empty the basmati rice into a pot with a tight-fitting lid with 500 mls of water. Place pot on stovetop and bring to the boil over a high heat. Once the rice is boiling put the lid on the pot and reduce the heat to low and cook for 12 mins. Remove from the heat and stand with the lid still on for a further 4 mins. Remove the lid. Fluff the rice with a fork.

2. TO PREPARE AND COOK THE KATSU SALMON:

Remove salmon fillets from their packaging and rinse under cold water. Pat dry with a paper towel. Empty the katsu crumb into a shallow bowl. In another shallow bowl break and whisk the egg with a fork. Dip each piece of salmon into the egg allowing excess to drip off, then dip into the katsu crumb and turn to coat well. Shake off excess crumb and lay each piece onto an oven tray lined with baking paper. Spray or drizzle a little oil over them. Place in the middle of the oven and bake for 12-15 mins. Remove and season with salt and pepper.

3. TO PREPARE THE ASIAN SLAW:

Empty the coleslaw into a salad bowl and add the edamame beans. Pour over the miso slaw dressing and toss to combine.

To serve:

Spoon rice onto plates. Top the rice with a piece of salmon and drizzle over the teriyaki sauce. Serve the Asian slaw on the side.
Ingredients
In your box:
1 pack of salmon fillets
1 pack of katsu crumb
1 pack of basmati rice
1 pack of coleslaw
1 pot of edamame beans
1 pot of teriyaki sauce
1 pot of miso slaw dressing
SHARE YOUR CREATION WITH US!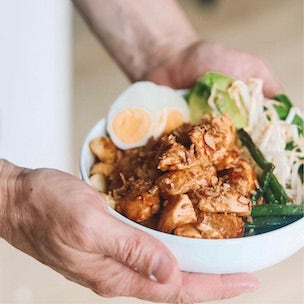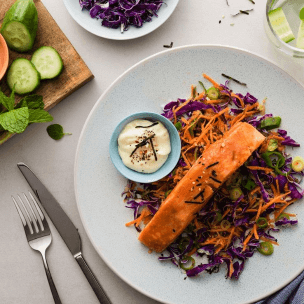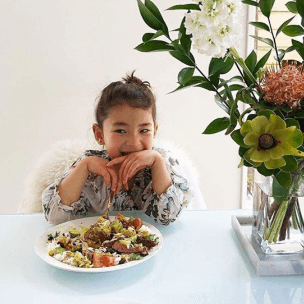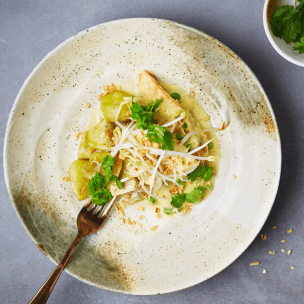 use the hashtag #woopnz to be featured