RECIPE FACT:
Miso is a fermented food of ancient origin; there are many different types throughout Japan.
Nutritional Info:
Energy: 2311kj (552Kcal)
Protein: 45g
Carbohydrate: 46g
Fat: 16g
Contains: Gluten, Sesame, Soy
Serving Amount:
Serves 1 person
Cooking Instructions:
1. TO COOK THE CORN AND FREEKEH:

Slice the spring onion finely on the diagonal. Open the bag of freekeh, squeezing gently on the bag to break up any large clumps. Spray a non-stick frying pan with oil and place over a medium-high heat. Once hot add the corn and freekeh to the pan, season with salt and cook for 4-5 mins stirring occasionally to create a char. Add the spring onion and toss to combine. Remove from the pan and place in a salad bowl.

2. TO COOK THE CHICKEN:

Remove the free-range chicken breast from its packaging and pat dry with a paper towel. Cut into 3 cm pieces. Wipe out the pan, respray with oil and place over a medium-high heat. Once hot add the chicken pieces and cook for 5-6 mins to brown and cook through. Pour over the teriyaki sauce so it can sizzle over the chicken for 1-2 mins and remove from the heat.

3. TO FINISH THE SLAW:

Slice the radish finely. Place in the bowl with the corn. Add the sliced red and green cabbage and pour in the miso dressing. Toss to combine.

TO SERVE:

Spoon miso corn slaw and freekeh onto a plate. Top with teriyaki chicken pieces and sprinkle with toasted sesame seeds.  
Ingredients
In your box:
1 pack of free-range chicken breasts
1 bag of steamed freekeh
1 pot of teriyaki sauce
1 pot of miso dressing
1 sachet of toasted sesame seeds
1 pot of corn
1 Radish
1 bag of sliced red and green cabbage
1 Spring onion
SHARE YOUR CREATION WITH US!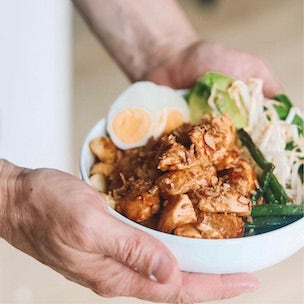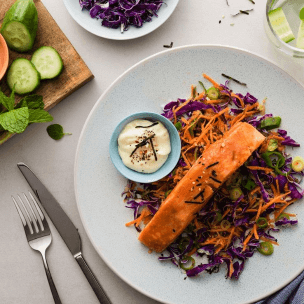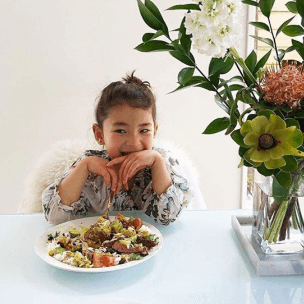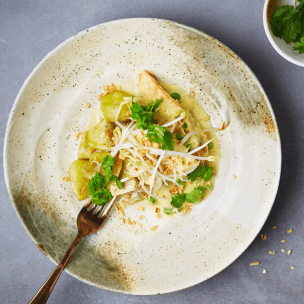 use the hashtag #woopnz to be featured