Teriyaki glazed chicken
with warm quinoa and sesame dressing
RECIPE FACT:
We think of quinoa as a grain, but it's technically a seed and higher in protein than many grains.
Nutritional Info:
Energy: 2187kj (522Kcal)
Protein: 39g
Carbohydrate: 40g
Fat: 19g
Contains: Soy, Gluten, Sesame
Serving Amount:
Serves 2 people
Cooking Instructions:
1. TO MAKE THE WARM QUINOA:

Peel and grate the carrot. Finely slice the spring onions on the diagonal. Spray oil into a non-stick frying pan and place over a medium heat. Once the pan is hot add the steamed miso quinoa and cook for 3-4 mins until warmed through. In a bowl add the red and green cabbage, carrot, half the spring onion and quinoa. Pour in the sesame dressing and half the toasted seeds and toss to combine.

2. TO COOK THE CHICKEN:

Remove the free-range chicken thighs from their packaging and pat dry with paper towel. Cut each thigh into 3 even pieces. Spray oil into a non-stick frying pan and place over a high heat. Once hot add the chicken pieces and cook for 5-6 mins to brown and cook through. Pour over the teriyaki sauce so it can sizzle onto the chicken and remove from the heat.

TO SERVE:

Spoon sesame dressed quinoa slaw into bowls. Top with teriyaki chicken pieces and any pan juices and lastly sprinkle over rest of spring onion and toasted seeds.
Ingredients
In your box:
1 pack of free-range chicken thigh
1 pack of steamed miso quinoa
1 pot of teriyaki sauce
1 pot of sesame dressing
1 sachet of toasted seeds
1 bag of red and green cabbage
1 carrot
2 spring onions
SHARE YOUR CREATION WITH US!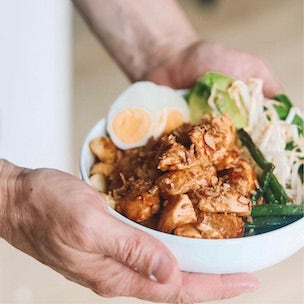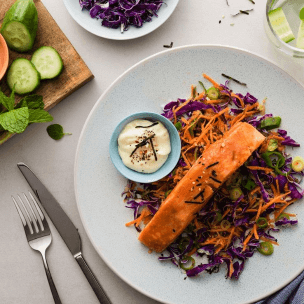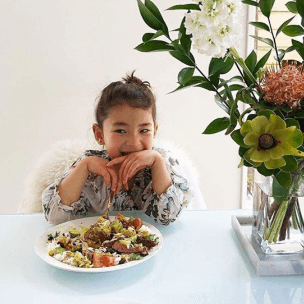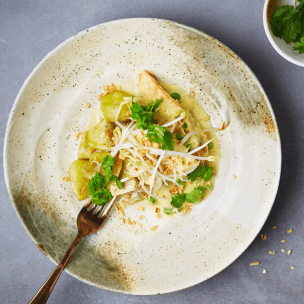 use the hashtag #woopnz to be featured