Tandoori lamb steaks
with turmeric & chilli potatoes, green beans and tandoori yoghurt
RECIPE FACT:
The word Punjab is made from two Persian words; 'Panj' means five and 'aab' means water. Five major rivers flow through the state: Sutlej, Beas, Ravi, Chenab and Jehlum
Nutritional Info:
Energy: 2652kj (633Kcal)
Protein: 34g
Carbohydrate: 36g
Fat: 41g
Contains: Milk
Serving Amount:
Serves 1 person
Cooking Instructions:
1. TO MARINATE THE STEAK:

Remove the lamb leg steaks from their packaging and pat dry with paper towel. Shake the tandoori yoghurt and coat the lamb steaks with half the yoghurt reserving the rest of it until serving. Set the lamb aside to marinade for several minutes.

2. TO COOK THE VEGETABLES:

Thinly slice the spring onions on the diagonal. Trim the ends off the green beans and cut in half. Roughly chop the coriander. Heat a non-stick frying pan over a high heat and once hot add the turmeric & chilli oil and steamed potatoes with 2 tbsps of butter. Cook stirring regularly for 5 mins. Then stir in the green beans and cook for another 5 mins. Remove from the heat and stir in the spring onion, half the coriander and season with salt and pepper. Place in a bowl then cover with tinfoil to keep warm until ready to serve.

3. TO COOK THE LAMB STEAKS:

Wipe out the pan from the potatoes and return to a medium heat. Add 2 tbsps of oil and once hot add the tandoori yoghurt marinated lamb steaks. Cook on each side for 3-4 mins being careful not to burn the marinade – adjust the heat if necessary. Remove from the heat and rest for 1-2 mins. Slice the steaks into 3-4 pieces.

To serve:

Arrange potatoes and beans on plates and top with lamb pieces. Sprinkle over the mizuna and drizzle the rest of the tandoori yoghurt over the top. Lastly sprinkle over remaining coriander.
Ingredients
In your box:
1 pack of grass-fed lamb leg steaks
1 pack of steamed potato
1 pot of turmeric & chilli oil
1 pot of tandoori yoghurt
1 bag of green beans
2 spring onions
1 bag of coriander
1 bag of mizuna
Pantry staple: Butter
SHARE YOUR CREATION WITH US!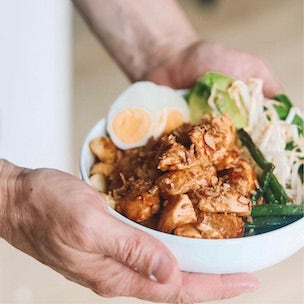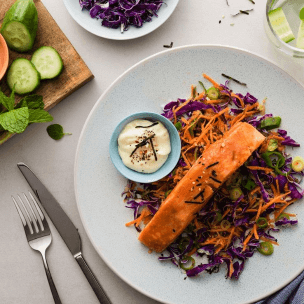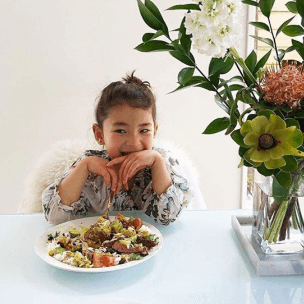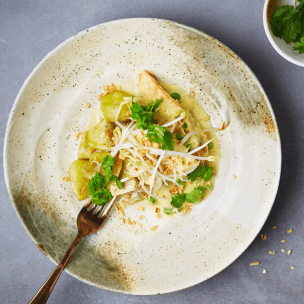 use the hashtag #woopnz to be featured