Sundried tomato and white wine GF tagliatelle
with a cheesy crumb & crispy pancetta
RECIPE FACT:
The colours of the Italian flag are said to represent these virtues: hope (green), faith (white), and charity (red)
Nutritional Info:
Energy: 3079kj (735Kcal)
Protein: 38g
Carbohydrate: 52g
Fat: 43g
Contains: Egg, Milk, Sulphites
Serving Amount:
Serves 2 people
Cooking Instructions:
Before cooking

Bring a large pot of water to the boil with a pinch of salt.

1. TO COOK THE GF TAGLIATELLE:

Once the pot of water is boiling rapidly, add the GF tagliatelle separating the strands as you are adding it to the water and cook for 2 mins. Add the peas and cook for a further 1 min. Drain in a colander reserving 2 tbsp of the cooking water. Return the GF tagliatelle to the pot. Add the sundried tomato and white wine sauce to the pot with the peas and pasta and bring to a simmer over a medium heat. Add the reserved water to loosen if needed.

2. TO COOK THE PANCETTA:

Heat a non-stick frying pan over a medium heat. Once the pan is hot add the pancetta slices and fry for 30 secs on each side until crispy. Remove from the heat and drain on paper towel.

TO SERVE:

Spoon gf tagliatelle into pasta bowls and top with pancetta strips, rocket and shaved Parmesan.
Ingredients
In your box:
1 pack of GF tagliatelle
1 pack of fresh fettuccine
1 pot of sundried tomato and white wine sauce
1 pot of peas
1 bag of rocket
1 pot of shaved Parmesan
SHARE YOUR CREATION WITH US!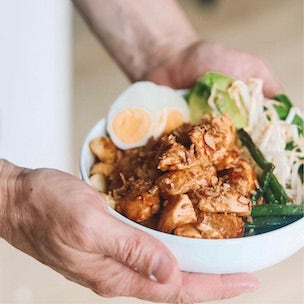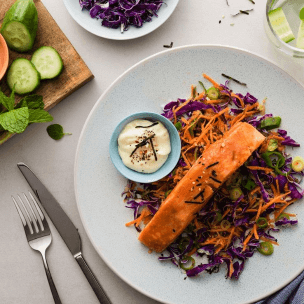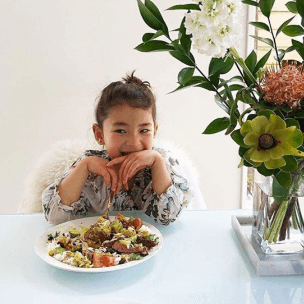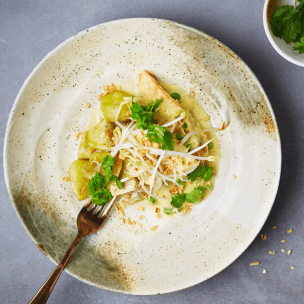 use the hashtag #woopnz to be featured