Sticky Chinese BBQ pork meatballs
with veggie rice stir-fry
RECIPE FACT:
The Chinese commonly refer to bok choy as pak choi or "white vegetable." Another common name is white cabbage.
Nutritional Info:
Energy: 4241kj (1013Kcal)
Protein: 41g
Carbohydrate: 79g
Fat: 57g
Contains: Soy, Sesame, Gluten, Egg
Serving Amount:
Serves 4 people
Cooking Instructions:
Before cooking:

Preheat oven to 210°C (fan bake).

1. TO COOK THE RICE:

Empty the basmati rice into a medium sized pot with a tight-fitting lid and add 500 mls of warm water. Place pot on stovetop and bring to the boil over a high heat. Once the rice is boiling place lid on the pot and reduce the heat to low and cook for 12 mins. Turn off the heat and let stand for 4 mins covered. Remove the lid and fluff the rice with a fork.

2. TO COOK THE MEATBALLS:

Place the pork mince in a bowl with a ¼ of the pot of Chinese BBQ sauce and mix well. Dampen your hands with cold water to help stop the mince from sticking. Form mixture into meatballs that are a little smaller than a golf ball. Place on an oven tray lined with baking paper. Cook in preheated oven for 10 mins. Spoon over the remaining Chinese BBQ sauce and cook for a further 2-3 mins.

3. TO PREPARE THE VEGETABLES:

Finely slice the spring onions on the diagonal and set aside. Remove any damaged leaves from the bok choy and discard. Cut the stem into ½ cm slices and the leaves into 1 cm slices then peel and grate the carrot.

4. TO COOK THE RICE STIR FRY:

Heat 1 tbsp of cooking oil in a non-stick frying pan over a medium-high heat. Add the carrot, edamame beans and bok choy. Stir fry for 2-3 mins. Remove from the heat. Add rice and veggies to a serving dish. Add rice dressing and toss to combine. Season with salt and pepper.

TO SERVE:

Divide rice between bowls, top with Chinese BBQ meatballs and sprinkle with spring onion finishing with a dollop of sesame mayo.
Ingredients
In your box:
1 pack of premium pork mince
1 pack of basmati rice
carrot
spring onion
1 pot of edamame beans
1 pack of bok choy
1 pot of Chinese BBQ sauce
1 pot rice dressing
1 pot of sesame mayo
SHARE YOUR CREATION WITH US!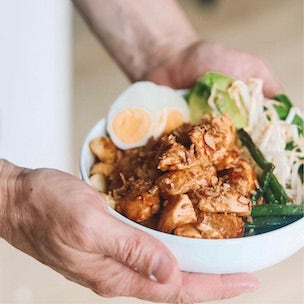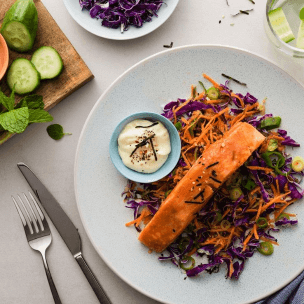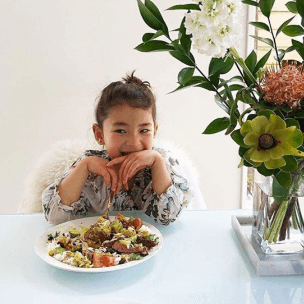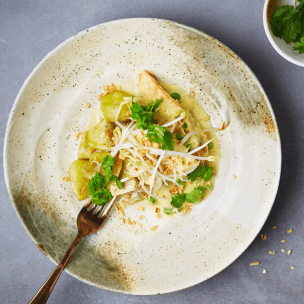 use the hashtag #woopnz to be featured