Soy and lime seared chicken
with gado gado and satay drressing
RECIPE FACT:
Gado gado is a famous Indonesian salad that literally means "mix-mix". It can contain a wide variety of different vegetables
Nutritional Info:
Energy: 2239kj (535Kcal)
Protein: 44g
Carbohydrate: 49g
Fat: 18g
Contains: Egg, Gluten, Soy, Peanuts
Serving Amount:
Serves 4 people
Cooking Instructions:
1. TO COOK THE EGGS:

Fill a pot with cold water, place the eggs in the pot and bring to a rolling boil over a high heat. Once boiling reduce heat to medium and simmer gently for 4 mins for a soft-boiled egg or 1-2 mins longer for more cooked. Remove the pot from the heat and place eggs under cold running water to cool. Once cool, peel and cut in half.

2. TO PREPARE THE GADO GADO:

Top and tail the green beans and cut in half. Spray a non-stick frying pan with oil and place over a medium-high heat. Once hot add the steamed potatoes, season with salt and cook for 5-6 mins stirring occasionally to create some crispy bits. Add the beans and cook for a further 2-3 mins. Remove from the pan, cover and keep warm.

3. TO COOK THE SOY AND LIME CHICKEN:

Remove the free-range chicken thighs from their packaging and pat dry with a paper towel. Slice each thigh into 4 even sized pieces. Respray the frying pan with oil and place over a medium-high heat. Once hot add the chicken and cook for 3-4 mins on each side. Add the soy and lime marinade to the pan and cook for 1-2 mins.

TO SERVE:

Arrange the cos lettuce leaves, mung beans, green beans, potatoes, egg halves and chicken in bowls. Drizzle with satay sauce and top with crispy shallots. Mix together to eat!
Ingredients
In your box:
1 pack of free-range chicken thighs
1 carton of eggs
1 bag of steamed potatoes
1 pot of soy and lime marinade
1 pot of satay dressing
1 sachet of crispy shallots
1 bag of green beans
1 bag of mung beans
1 bag of cos lettuce leaves
SHARE YOUR CREATION WITH US!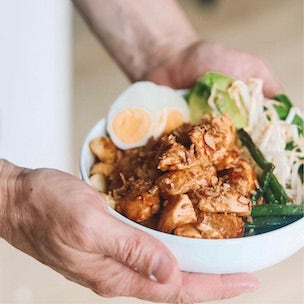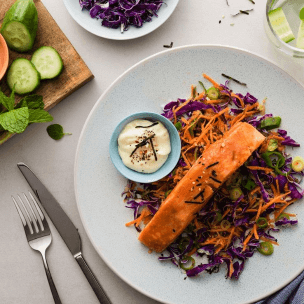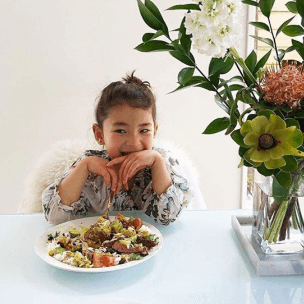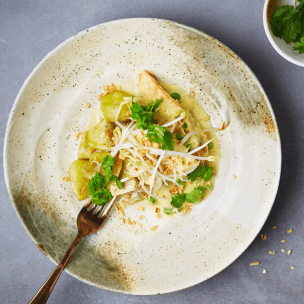 use the hashtag #woopnz to be featured