Smoked paprika butter sirloin steak
with herby baked potato, brocolli & carrots
RECIPE FACT:
Did you know paprika is a national spice in Hungary with a 200-year history.
Nutritional Info:
Energy: 2863kj (684Kcal)
Protein: 46g
Carbohydrate: 44g
Fat: 36g
Contains: Milk
Serving Amount:
Serves 4 people
Cooking Instructions:
Before cooking:

Preheat the oven to 220°C (fan-bake).

1. TO PREPARE AND COOK THE BAKED POTATOES:

Open the pack of steamed potatoes and place on an oven tray lined with baking paper and drizzle the pot of capsicum herb oil over the potatoes (reserving some for the other vegetables). Place into the preheated oven and cook for 22-25 mins. Remove and season with salt and pepper.

2. TO PREPARE & COOK THE CARROTS AND BROCCOLI:

Bring a medium pot of water to the boil over a high heat. Cut the broccoli into florets and discard the stem. Peel the carrots and slice on the diagonal into ½ cm thick slices. Add ½ tsp of salt to the boiling water and add the carrots to the pot and boil for 2 mins. Then add the broccoli florets and boil together for a further 2 mins. Drain into a colander and return to the pot. Add the remaining capsicum herb oil, season with salt and pepper and toss to combine.

3. TO COOK THE SIRLOIN STEAKS:

Remove the sirloin steaks from their packaging and pat dry with a paper towel. Season with salt and pepper. Heat 1 tbsp of oil in a large frying pan over a high heat. Once hot, add the steaks and fry for 2-3 mins. Turn the steaks over and then spoon the garlic paprika butter on top of each steak and cook for a further 2-3 mins. Remove from the pan and rest on a chopping board for 3-4 mins and then slice into 2 cm strips.

To serve:

Dollop on each plate some sour cream & chives and top with some baked potatoes. Serve the broccoli and carrots to the side leaving enough room for the steak slices on each plate.
Ingredients
In your box:
1 pack of premium sirloin steaks
1 pot of garlic paprika butter
1 pack of steamed potatoes
1 pot of sour cream & chives
1 pot of capsicum herb oil
broccoli
2 carrots
SHARE YOUR CREATION WITH US!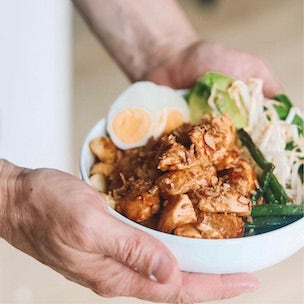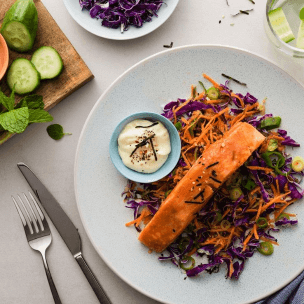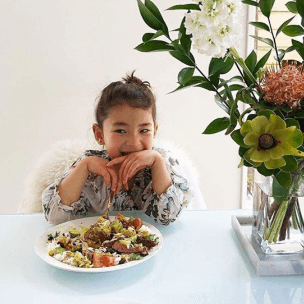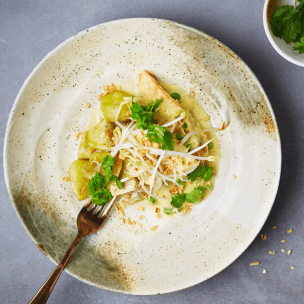 use the hashtag #woopnz to be featured