Silverbeet and lentil lasagne
with bechamel sauce and parmesan crumb
RECIPE FACT:
Lasagne is comfort food at its best and originates from the region of Emilia-Romagna, in the north of Italy.
Nutritional Info:
Energy: 3160kj (755Kcal)
Protein: 43g
Carbohydrate: 73g
Fat: 26g
Contains: Milk, Gluten, Sulphites
Serving Amount:
Serves 2 people
Cooking Instructions:
Before cooking

Preheat the oven to 210°c (fan bake). Boil the kettle.

1. TO PREPARE THE LENTIL FILLING:

Place the lentils into a sieve, rinse under running water and drain well. Slice the silverbeet into ½ cm strips discarding the stalk. Peel and grate the carrot. Place a non-stick frying pan over a medium-high heat with 1 tbsp of oil. Once hot add the silverbeet and cook for 1-2 mins. Add the red wine ragu, lentils and carrot to the pan and cook for a further 2-3 mins stirring occasionally. Season with salt and pepper.

2. TO PREPARE THE LASAGNE:

Warm the cheese sauce for 60 secs in the microwave or place in a pot and heat gently over a low heat. Slice the fresh lasagne sheets in half. Lightly oil a baking dish and add 1/2 of the lentil filling to the dish. Spread evenly to cover the bottom and cover with a lasagne sheet or two. Continue with the remaining lentils and cover with the lasagne sheets. Spoon over the warmed cheese sauce on top and sprinkle with the parmesan crumb.

3. TO COOK THE LASAGNE:

Place into the preheated oven and bake for 15-20 mins or until the top is golden and bubbling. Remove from the oven and let it sit for a few mins.

4. TO PREPARE AND COOK THE BROCCOLI:

Pour boiling water from the kettle into a pot, season with salt and place over a high heat. Use half the broccoli and slice into small bite sized pieces. Once the water is boiling add to the pot and cook for 2-3 mins. Drain into a colander. Season with pepper and a knob of butter.

To serve:

Using a fish-slice cut the lasagne into sections and serve on a plate with a side of buttery broccoli.
Ingredients
In your box:
1 tin of lentils
1 pot of red wine ragu
1 pack of fresh lasagne sheets
1 pot of cheese sauce
1 sachet of parmesan crumb
1 bag of silverbeet
1 carrot
Broccoli
SHARE YOUR CREATION WITH US!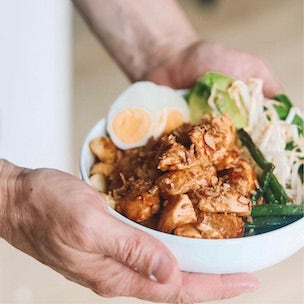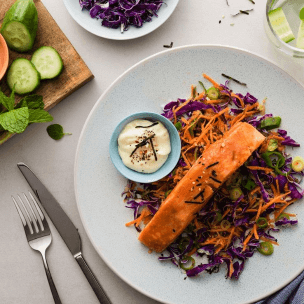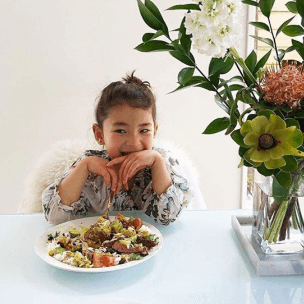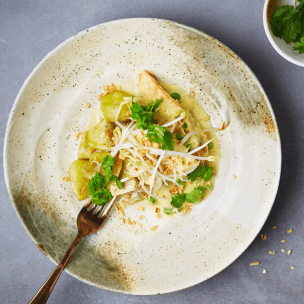 use the hashtag #woopnz to be featured