Sherry vinegar glazed salmon
with creamy herb and shallot mash, sauté green beans and silverbeet
RECIPE FACT:
Mallaig is the main commercial fishing port on the West Coast of Scotland. The train line that runs from Mallaig was used for the filming of Harry Potter.
Nutritional Info:
Energy: 2373kj (567Kcal)
Protein: 35g
Carbohydrate: 53g
Fat: 28g
Contains: Fish, Sulphites, Milk
Serving Amount:
Serves 4 people
Cooking Instructions:
Before cooking

Preheat the oven to 200⁰C (fan bake).

1. TO MAKE THE MASH:

Peel and thinly slice the shallots. Heat 1 tbsp of butter in a medium pot over a medium heat. Once the butter has melted stir in the shallot and soften for 2-3 mins. Stir in the steamed potatoes with the herby cream mix. Add 3 tbsps of water to the empty cream pot and then add this to the potatoes. Cook for 3-4 mins stirring regularly to heat through. Once hot mash with a potato masher or wooden spoon. Season with salt to taste. Keep covered until ready to serve. Crumble the feta over the carrot and parsnip and drizzle over 1 tbsp of olive oil and season with salt and pepper. Cook in the preheated oven for 18-20 mins.

2. TO COOK THE SALMON:

Place some tinfoil on an oven tray. Remove the salmon from its packaging and place on the tinfoil. Season with salt and pepper. Pull the sides of the tinfoil up around the salmon but leave open at the top. Pour over the sherry vinegar glaze. Bake in the oven for 8 mins for pink salmon and 10 mins for cooked through.

3. TO PREPARE AND COOK THE VEGETABLES:

Trim the ends off the green beans. Then cut in half lengthways. Slice the silverbeet into ½ cm strips discarding any stalk. Heat 1 tbsp of oil in a non-stick frying over a medium-high heat and once hot add the green beans. Sauté for 3-4 mins and then stir in the silverbeet and cook for 1-2 mins.

TO SERVE:

Spoon shallot and creamy herb mash onto plates and top with salmon fillet. Drizzle over remaining glaze. Serve vegetables on the side.
Ingredients
In your box:
1 pack of salmon
1 pack of steamed potatoes
1 pot of sherry vinegar glaze
1 pot of herby cream
1 bag of silverbeet
1 bag of green beans
2 shallots
SHARE YOUR CREATION WITH US!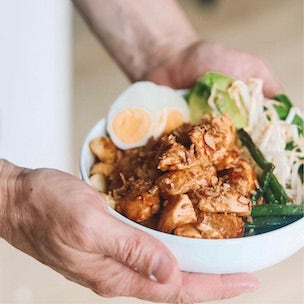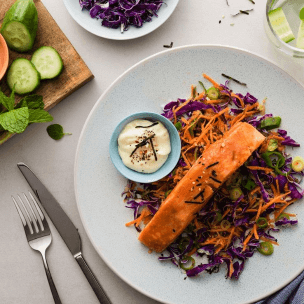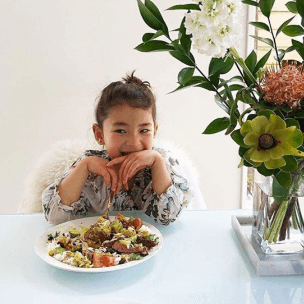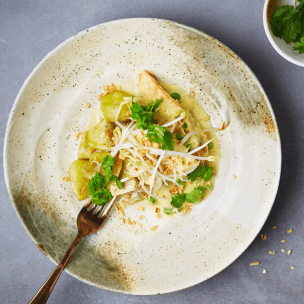 use the hashtag #woopnz to be featured