Sesame katsu chicken
with broccoli fried rice and pickled radish
RECIPE FACT:
Red and brown rice is less processed than white rice, so it contains more gut-friendly fibre.
Nutritional Info:
Energy: 2304kj (550Kcal)
Protein: 49g
Carbohydrate: 47g
Fat: 8g
Contains: Soy, Gluten, Sesame, Tree Nuts
Serving Amount:
Serves 1 person
Cooking Instructions:
Before cooking:

PREHEAT OVEN TO 210⁰C (FAN BAKE).

1. TO PREPARE THE VEGETABLES AND PICKLED RADISH:

Wash and trim the root off the radish. Slice the radish and place in a bowl with the pickling liquid. Stir to combine and put aside until serving. Using half the broccoli, cut into small bite sized pieces. Using only half the bok choy, cut in half lengthways. Rinse under water and slice off the root. Chop the stalk into 1 cm slices and roughly chop the leaves, keeping separate.

2. TO COOK THE CHICKEN:

Line an oven tray with baking paper. Remove the free-range chicken breast from its packaging and pat dry with a paper towel. Cut the chicken breast in half horizontally by holding flat on a board and slicing through sideways. Sprinkle sesame crumb onto a plate and season with salt and pepper. Using half of the katsu sauce, spoon a thin amount of sauce onto one side of the chicken fillet and press firmly into the crumb. Repeat on the other side coating both fillets and place on the oven tray. Spray each crumbed chicken fillet with oil and bake in the preheated for 15 mins.

3. TO COOK THE CHARRED BROCCOLI AND RICE:

Spray a non-stick frying pan with oil and place on a medium-high heat. Once hot add the broccoli and cook for 6-8 mins, stirring occasionally to create a char. Open the bag of steamed brown and red rice breaking up any clumps by squeezing gently on the bag until broken up into pieces. Add the bok choy stalks and rice to the pan. Cook, stirring for 2-3 mins. Add the bok choy leaves and pour over ginger soy drizzle stirring to combine and cook for 1 min.

TO SERVE:

Spoon charred broccoli and rice onto plates. Top with sliced chicken katsu and drizzle over any remaining katsu sauce. Serve with pickled radish on the side.
Ingredients
In your box:
1 pack of free-range chicken breasts
1 pack of steamed brown and red rice
1 pot of katsu sauce
1 pot ginger soy drizzle
1 pot of pickling liquid
1 sachet of sesame crumb
1 broccoli
2 radishes
1 bag of bok choy
SHARE YOUR CREATION WITH US!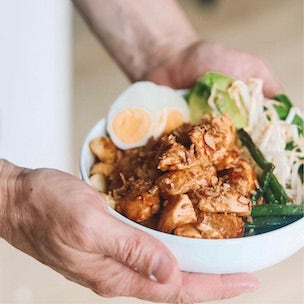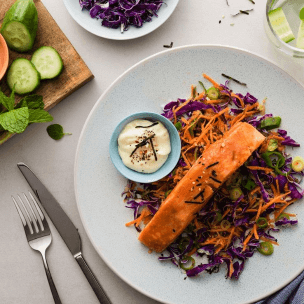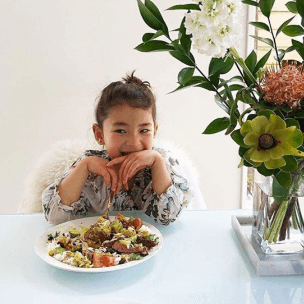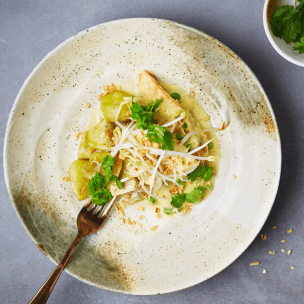 use the hashtag #woopnz to be featured