Sesame crusted tofu
with bang bang sauce and garlic black rice
RECIPE FACT:
Black rice had the highest protein content over all other rice varieties and is rich in antioxidants due to its purple colour when cooked.
Nutritional Info:
Energy: 2728kj (652Kcal)
Protein: 31g
Carbohydrate: 58g
Fat: 33g
Contains: Soy, Egg, Milk, Gluten, Sesame
Serving Amount:
Serves 1 person
Cooking Instructions:
Before cooking:

PREHEAT THE OVEN TO 210⁰C (FAN BAKE).

1. TO COOK THE CRISPY SESAME TOFU:

Line an oven tray with baking paper. Remove the tofu from its packaging and pat dry with a paper towel. Using half the tofu, slice into 1 cm cubes and place in a bowl, season with salt and add half the bang bang sauce. Gently toss to coat well in the sauce. Sprinkle the sesame crumb into another bowl and add the tofu cubes in batches to coat well. Place on the oven tray, drizzle with oil and season with salt. Bake in the oven for 12-15 mins until golden brown and crispy.

2. TO PREPARE THE VEGETABLES:

Rinse the bok choy under water and shake off any excess water. Slice in half lengthways and use only one half. Slice the root end off and discard. Slice stalks and leaves into 1 cm slices keeping separated. Finely slice the spring onion on the diagonal. Using half the carrot, peel and grate.

3. TO COOK THE GINGER BLACK RICE:

Place a non-stick frying pan or wok over a medium-high heat. Once hot add the bok choy stalks and cook for 1-2 mins. Open the bag of steamed black rice, gently squeezing on the bag to break up any large clumps. Add to the pan and cook for 1-2 mins. Add the sliced red and green cabbage, carrot, bok choy leaves and half the spring onion. Cook for 1 min stirring regularly. Pour in the garlic stir-fry sauce and cook for 1-2 mins until reduced. Season with salt.

To serve:

Spoon garlic black rice and vegetables onto a plate. Top with crispy sesame tofu. Drizzle with remaining bang bang sauce and sprinkle with remaining spring onion.
Ingredients
In your box:
1 pack of tofu
1 pack of black rice
1 pot of bang bang sauce
1 pot of garlic stir-fry sauce
1 sachet of sesame crumb
1 bag of bok choy
1 bag of sliced red and green cabbage
1 carrot
1 spring onion
SHARE YOUR CREATION WITH US!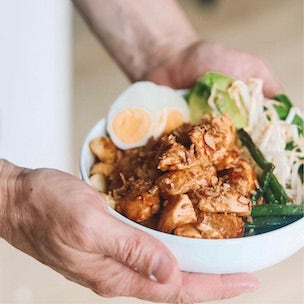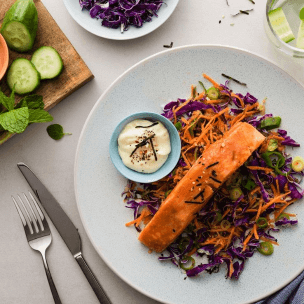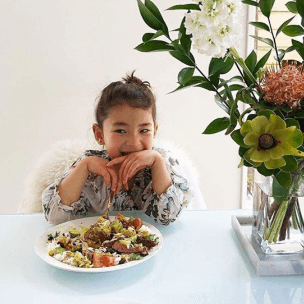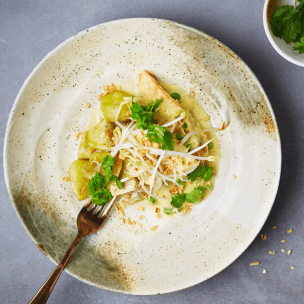 use the hashtag #woopnz to be featured