Roasted kung pao cauliflower
with garlic stir fry greens and quinoa
RECIPE FACT:
Kung pao sauce originates from the Sichuan province of China and is a mix of spicy, sweet and salty flavours
Nutritional Info:
Energy: 4161kj (994Kcal)
Protein: 29g
Carbohydrate: 66g
Fat: 61g
Contains: Soy, Gluten, Sesame, Egg, Peanuts
Serving Amount:
Serves 2 people
Cooking Instructions:
Before cooking:

PREHEAT OVEN TO 210⁰C (FAN BAKE).

1. TO PREPARE THE VEGETABLES:

Slice the spring onions finely on the diagonal. Cut the cauliflower into small bite sized pieces. Cut the root end off the bok choy and discard. Slice into 1 cm slices.

2. TO COOK THE CAULIFLOWER:

Line an oven tray with baking paper. Put the cauliflower on the oven tray, drizzle with oil and season with salt and pepper. Bake in the oven for 14-15 mins. Remove from the oven and add the toasted peanuts and spring onion. Stir the kung pao sauce well to combine and pour over the cauliflower turning the vegetables and peanuts in the sauce to coat evenly. Place back in the oven for 5-6 mins until sauce is sticky and starting to caramelize.

3. TO COOK THE STIR FRY GREENS AND QUINOA:

Place a non-stick frying pan over a medium-high heat with a drizzle of olive oil. Once hot add the edamame and cook for 2-3 mins stirring occasionally to create a char. Open the bag of quinoa, squeezing gently on the bag to break up any large clumps, add to the pan with the bok choy and cook for 1-2 mins stirring regularly. Pour in the garlic stir fry sauce and cook for 2-3 mins until the stir fry sauce has reduced.

TO SERVE:

Spoon garlic stir fry greens and quinoa into bowls and top with roasted kung pao cauliflower, peanuts, and spring onions. Dollop with sriracha mayo.
Ingredients
In your box:
Cauliflower
1 pack of quinoa
1 pot of kung pao sauce
1 pot of garlic stir-fry sauce
1 pot of sriracha mayo
1 sachet of toasted peanuts
1 bag of bok choy
1 pot edamame
2 spring onions
SHARE YOUR CREATION WITH US!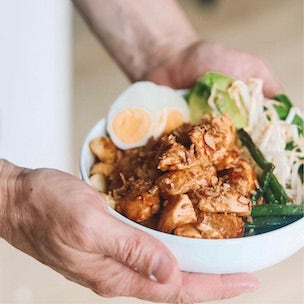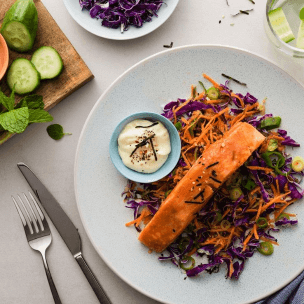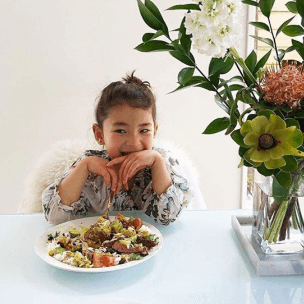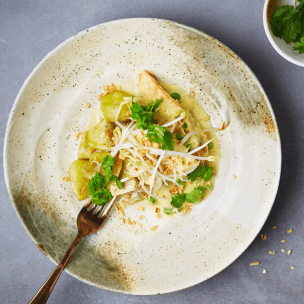 use the hashtag #woopnz to be featured