Ras-el-hanout lamb steaks
with jeweled rice and babaganoush
RECIPE FACT:
Ras-el-hanout is a North African spice blend meaning 'top of the shop' and is used to flavour tagines, meat and fish. Blends vary but some can contain up to 100 spices!
Nutritional Info:
Energy: 2431kj (581Kcal)
Protein: 40g
Carbohydrate: 34g
Fat: 32g
Contains: Tree Nuts
Serving Amount:
Serves 1 person
Cooking Instructions:
Before cooking:

BOIL THE KETTLE.

1. TO COOK THE BEANS:

Trim the ends off the green beans and cut in half. Pour boiling water from the kettle into a medium pot, season with salt and place over a high heat. Once boiling add the beans and cook 2-3 mins. Drain well into a colander.

2. TO PREPARE THE JEWELLED RICE:

Open the bag of steamed brown rice, squeezing gently on the bag to break up any large clumps. Spray oil into a non-stick frying pan and place over a medium-high heat. Once hot add the rice and peas, season with salt and warm for 2-3 mins. Place in a salad bowl and leave to cool for a few minutes. Finely chop the curly parsley discarding the stalks and half the parsley to the rice. Add beans and pistachio and cranberry sprinkle to the rice and stir in the orange dressing. Just before serving gently fold the baby spinach through the rice and season with salt and pepper.

3. TO COOK THE LAMB:

Wipe out the pan, respray with oil and place over a medium-high heat. Once hot add the ras-el-hanout seasoned lamb steak and sear on each side for 2-3 mins – a little longer for well done. Remove from the heat and allow to rest for 1-2 mins before slicing thinly.

TO SERVE:

Spoon jeweled rice on to a plate. Top with sliced lamb and dollop with babaganoush and remaining parsley.
Ingredients
In your box:
1 pack of ras-el-hanout lamb steak
1 pack of steamed brown rice
1 pot of orange dressing
1 pot of babaganoush
1 sachet of pistachio and cranberry sprinkle
1 bag of green beans
1 bag of baby spinach
1 pot of peas
1 bag of curly parsley
SHARE YOUR CREATION WITH US!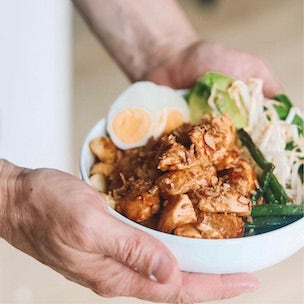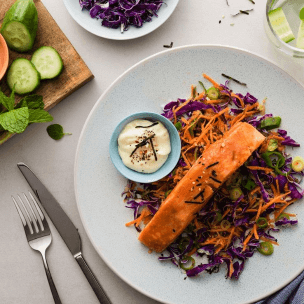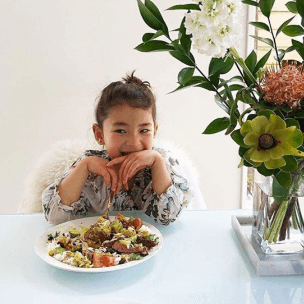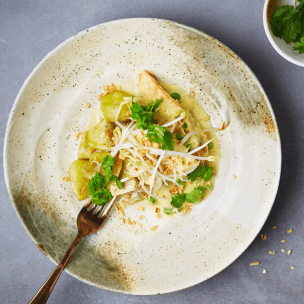 use the hashtag #woopnz to be featured