Ras el hanout chicken
with roasted pumpkin, broccolini, red onion and a chermoula mayo
RECIPE FACT:
Ras el Hanout is a spice blend common in North African cooking. The name in Arabic means "head of the shop," and literally refers to the best spices the store has to offer
Nutritional Info:
Energy: 2237kj (534Kcal)
Protein: 50g
Carbohydrate: 29g
Fat: 43g
Contains: Sesame, Egg
Serving Amount:
Serves 2 people
Cooking Instructions:
Before cooking

Preheat oven to 210°C (fan bake).

1. TO COOK THE PUMPKIN AND RED ONION AND BROCCOLINI:

Peel and cut the red onion into 1 cm wedges. Empty the pack of steamed pumpkin and add the red onion wedges onto an oven tray lined with baking paper. Drizzle with 1 tbsp of olive oil. Add to preheated oven for 10 mins. Slice the roasted capsicum into 1 cm strips and trim the ends off the broccolini. Add to the pumpkin and return to the oven for 10 mins.

2. TO COOK THE CHICKEN:

Remove the free-range chicken breasts from their packaging and pat dry with a paper towel. Cut each chicken breast in half horizontally by holding flat on a board and slicing through sideways. Place on an oven tray lined with baking paper. Sprinkle with ras el hanout and drizzle with 1 tbsp of olive oil. Turn to coat. Sprinkle over sachet of mixed seeds and press down to stick to the chicken. Bake in preheated oven for 12-15 mins.

TO SERVE:

Thinly slice ras el hanout chicken. Divide the vegetables between plates, top with sliced chicken and a dollop of chermoula mayo.
Ingredients
In your box:
1 pack of free-range chicken breasts
1 pack of broccolini
1 red onion
1 pot of roasted capsicum
1 pack of steamed pumpkin
1 pot of chermoula mayo
1 sachet ras el hanout
1 sachet mixed seeds
SHARE YOUR CREATION WITH US!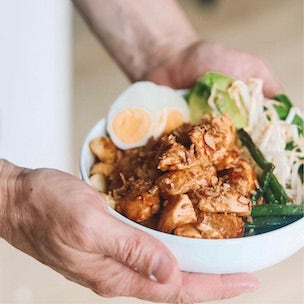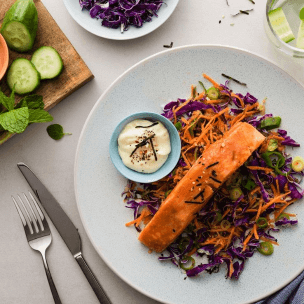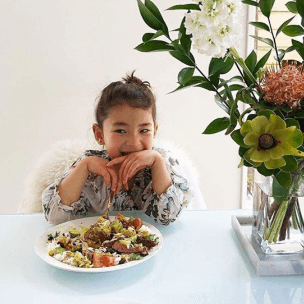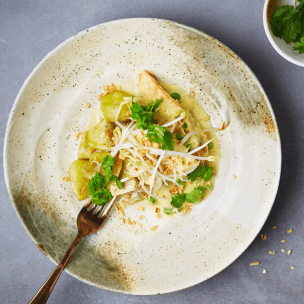 use the hashtag #woopnz to be featured