Prune and Pomegranate Chicken
Oregano Kumara With Charred Vegetables With Sweet Tahini Dressing
RECIPE FACT:
Tahini is a paste made from sesame seeds and is a staple in many cuisines, especially in the Mediterranean and Middle East.
Nutritional Info:
Energy: 2432kj (581Kcal)
Protein: 41g
Carbohydrate: 49g
Fat: 18g
Contains: Gluten, Soy, Sesame
Serving Amount:
Serves 4 people
Cooking Instructions:
Before cooking:

Pre-heat the oven to 210°C fan-bake.

1. TO COOK THE KUMARA AND CARROTS:

Cut the broccoli into small florets and peel the carrots and then cut in half lengthways. Slice into 1 cm chunks. Roughly chop the oregano. Place broccoli, carrot and oregano in a large bowl with the steamed kumara. Season with salt and pepper and add a drizzle over of olive oil and toss to coat well. Arrange vegetables on a roasting tray lined with baking paper and cook in the pre-heated oven for 22-25 mins.

2. TO COOK THE CHICKEN:

Remove the free range chicken thighs from their packaging and pat dry with a paper towel. Cut each thigh into three pieces. Add 2 tbsps of oil to a large frying pan over a medium high heat. Once the pan is hot sear the pieces of chicken for 8 mins turning occasionally. Reduce the heat. Add the prune & pomegranate molasses and bring up to a gentle simmer for 2 mins. Remove from the heat and season with salt and pepper.

TO SERVE:

Spread 1 large tbsp of sweet tahini dressing on each plate. Spoon broccoli, carrot and kumara on top and finish with pieces of prune and pomegranate chicken.
Ingredients
In your box:
1 pack of free range chicken thighs
1 pack of steamed kumara
1 pack of oregano
1 pot of prune and pomegranate molasses
1 pot of sweet tahini dressing
broccoli
2carrots
SHARE YOUR CREATION WITH US!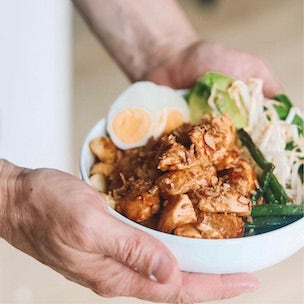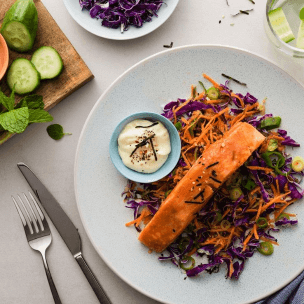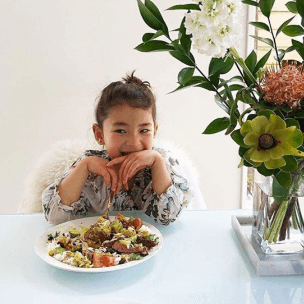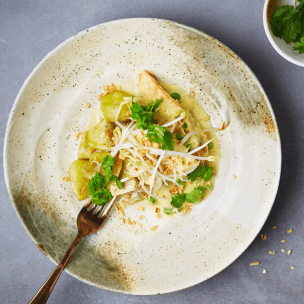 use the hashtag #woopnz to be featured