Prawn nasi goreng
with peanuts and crispy shallots
RECIPE FACT:
This dish contains resistant starch, from cooked and cooled rice. This feeds the good bacteria in our gut.
Nutritional Info:
Energy: 2497kj (596Kcal)
Protein: 46g
Carbohydrate: 54g
Fat: 20g
Contains: Crustacean, Egg, Peanut, Soy, Gluten
Serving Amount:
Serves 2 people
Cooking Instructions:
1. TO PREPARE THE VEGETABLES

Peel the carrot and then cut in half lengthways. Thinly slice into half-moons on the diagonal. Thinly slice spring onions on the diagonal. Crack the eggs into a small bowl and whisk with a fork.

2. TO COOK THE NASI GORENG RICE:

Remove the chilli from the nasi goreng paste and finely slice. Spray oil into a pan and place over a medium-high heat. Once hot add the carrot and cook for 1-2 mins, Add the nasi goreng paste and some or all of the chilli to the pan and cook for 1 min. Add the red and green cabbage and edamame and cook for 2-3 mins. Stir in the steamed brown rice and cook for 1-2 mins. Push all the rice and vegetables to the side of the pan and pour in the egg. Scramble the egg and then stir back into the rice and vegetables with the spring onion and remove from the heat.

3. TO COOK THE PRAWNS

Remove the prawns from their pot and pat dry with paper towel. Re-spray oil into the pan and place back over a high heat. Once hot add the prawns, season with salt and stir fry for 1-2 mins until cooked through and browned. Pour in the kecap manis splash and cook for 30-60 secs until the splash has reduced.

TO SERVE:

Spoon nasi goreng into bowls and top with prawns. Sprinkle over crispy shallots.
Ingredients
In your box:
1 pot of prawns
1 pack of eggs
1 pack of steamed brown rice
1 pot of nasi goreng paste with chilli
1 pot of kecap manis splash
1 sachet of crispy shallots
1 pot of edamame
1 bag of red and green cabbage
1 carrot
2 spring onions
SHARE YOUR CREATION WITH US!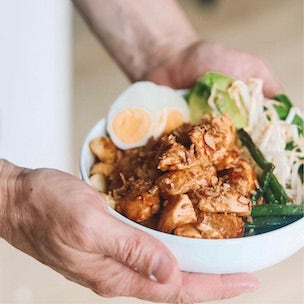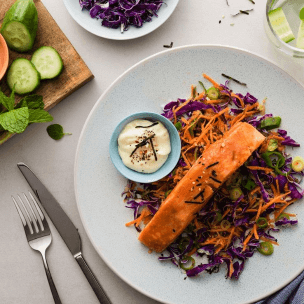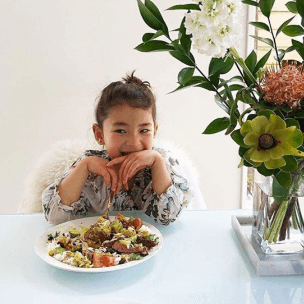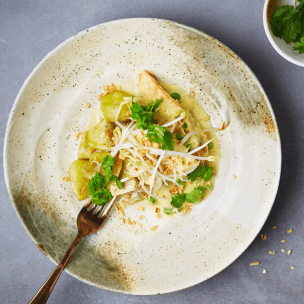 use the hashtag #woopnz to be featured