Pork katsu curry
with pickled cucumber and carrot salad on red rice
RECIPE FACT:
Did you know Japan is made up of 6,852 islands
Nutritional Info:
Energy: 2924kj (698Kcal)
Protein: 36g
Carbohydrate: 84g
Fat: 22g
Contains: Soy, Sesame, Peanuts
Serving Amount:
Serves 4 people
Cooking Instructions:
1. TO PREPARE THE VEGETABLES:

Trim the ends off the carrot and peel. Then pull the peeler full length along the carrot and place in a bowl. Make ribbons with the cucumber in the same way but use the skin as well. Mix in the bowl with the rice pickle dressing and set aside until serving. Thinly slice the spring onions on the diagonal.

2. TO PREPARE THE PORK KATSU:

Remove the pork medallions from their packagingand pat dry with paper towel. Mix 4 tbsps of cornflour in a bowl and season with saltand pepper. Break two eggs into another bowl and whisk with a fork. Spread GF  breadcrumbs on a plate. First dip pork pieces in cornflour mix andshake off excess, then dip in egg mix and allow excess to drip off. Finally roll in GF breadcrumbs to coat well. Heat 3-4 tbsp cooking oil in anon-stick frying pan over a medium heat. Once the pan is hot add the crumbedpork to the pan and cook on each side for 4-5 mins until crumbs are golden andpork is cooked through. Turn the heat down if the crumbs are browning too much.Remove the pork from the pan and set aside to rest for 1-2 mins. Wipe out thepan and return to a medium-low heat. Pour in the katsu currysauce and gently warm for1-2 mins. Slice the pork into 1 cm thick strips.

3. TO HEAT THE RICE:

Microwave option (preferred): Place red rice tray in microwave with the seal intact and cook on high (750w) for 2-3 mins or until seal bubbles up. Oven option: Preheat oven to 200°C (fanbake) Place rice in an ovenproof baking dish lined with baking paper and add 1-2 tbsps of water. Cover with tinfoil and heat in oven for 8-10 mins.

TO SERVE:

Spoon red rice into bowls. Top with pickled carrot and cucumber salad and drizzle over remaining pickling juices. Sprinkle the salad with the toasted peanuts. Arrange pork slices in bowl and pour over katsu curry sauce. Sprinkle over spring onion.
Ingredients
In your box:
1 pack of pork medallions
2 trays of red rice
1 pack of GF breadcrumbs
1 pot of katsu curry sauce
1 pot of rice pickle dressing
1 sachet of toasted chopped peanuts
2 carrots
1 cucumber
3 spring onions
SHARE YOUR CREATION WITH US!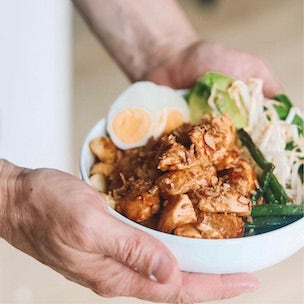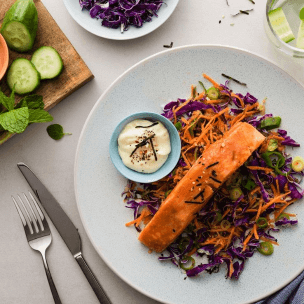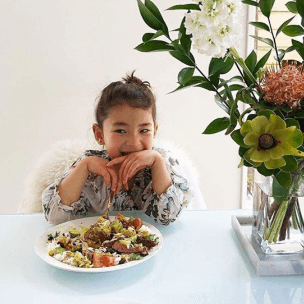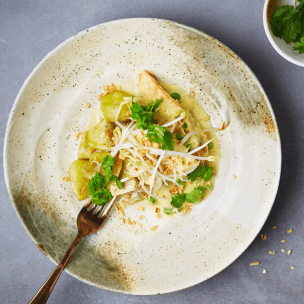 use the hashtag #woopnz to be featured