Peruvian spiced steak
with aji verde sauce and pan-fried potatoes
RECIPE FACT:
This dish has a double benefit: The antioxidants in the colourful vegetables in this meal, help your body to absorb the iron in the beef.
Nutritional Info:
Energy: 2215kj (529Kcal)
Protein: 36g
Carbohydrate: 30g
Fat: 31g
Contains: Milk, Egg
Serving Amount:
Serves 1 person
Cooking Instructions:
1. TO MAKE THE CHOPPED SALAD:

Slice the roasted red capsicum into ½ cm strips. Using half the tomato, dice into 1 cm cubes and place in a salad bowl with the capsicum and the baby cos leaves. Roughly chop the coriander including the stalks which have lots of flavour and add half to the salad. Just before serving, pour in the lime dressing, season with salt and pepper and toss to combine.

2. TO COOK THE POTATOES:

Spray a non-stick pan with oil and place over a medium-high heat. Once hot add the steamed red potatoes, season with salt and cook stirring occasionally to create some crispy bits for 8-10 mins. Remove from the pan and cover to keep warm.

3. TO COOK THE PERUVIAN BEEF STEAK:

Respray the pan with oil and place over a medium-high heat. Once hot add the Peruvian seasoned beef sirloin to the pan and cook for2-3 mins each side for medium rare – a little long for well done. Leave to rest before slicing.

TO SERVE:

Spoon chopped salad onto plates with fried potatoes. Place the sliced Peruvian beef on the vegetables. Dollop with aji verde sauce and sprinkle with remaining coriander.
Ingredients
In your box:
1 pack of Peruvian seasoned beef sirloin
1 pack of steamed red potatoes
1 pot of aji verde sauce
1 pot of lime dressing
1 pot of roasted capsicum
1 bag of baby cos
1 tomato
1 bag of coriander
SHARE YOUR CREATION WITH US!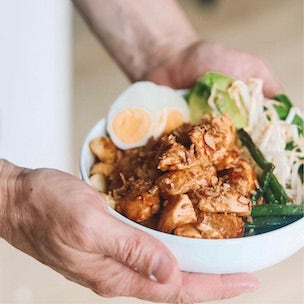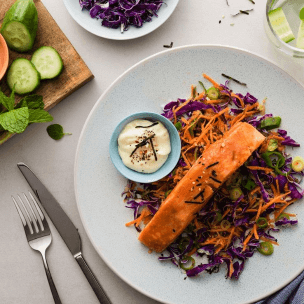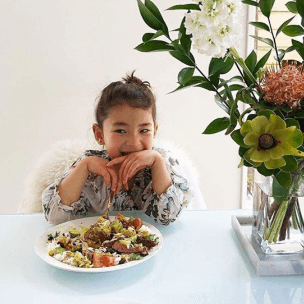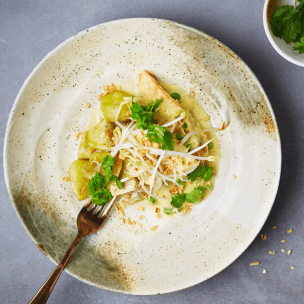 use the hashtag #woopnz to be featured