Pan seared lamb leg steak
with pommegrante dressed roasted vegetable couscous and mint yoghurt
RECIPE FACT:
Imlil is a small village in the high Atlas Mountains of Morocco. It is 1,800 metres above sea level.
Nutritional Info:
Energy: 3655kj (873Kcal)
Protein: 49g
Carbohydrate: 95g
Fat: 26g
Contains: Gluten, Milk, Tree Nuts
Serving Amount:
Serves 4 people
Cooking Instructions:
Before cooking:

Preheat oven to 210°C fanbake, bring a pot of salted water to the boil.

TO COOK THE VEGETABLES AND COUSCOUS:

Peel and cut the red onion into 1 cm wedges. Place onto an oven tray lined with baking paper. Add the carrot batons and chickpeas to the tray with the onion and drizzle with olive oil and season with salt and pepper. Cook in the preheated oven for 20-22 mins. Add the Israeli couscous to the pot of boiling water and boil for 16 mins then drain into a colander and drizzle with a little olive oil and mix to prevent it sticking together.

TO COOK THE LAMB:

Remove the lamb leg steaks from their packaging and pat dry with a paper towel. Rub all over with 1-2 tbsps of olive oil and season with salt and pepper. Heat a frying pan over a medium high heat. Once the pan is hot cook the lamb leg steaks for 2-3 mins each side for medium rare – slightly longer if you like more cooked. Remove from the heat and rest for 1-2 mins before thinly slicing.

TO MAKE THE POMEGRANATE DRESSED ROASTED VEGETABLE ISRAELI COUSCOUS:

Add the baby spinach, roasted vegetables, Israeli couscous and pomegranate glaze to a serving bowl. Season with salt and pepper and toss to combine.

TO SERVE:

Place the pomegranate dressed roasted vegetable couscous between plates. Top with sliced lamb, a drizzle of the mint yoghurt and sprinkle with cinnamon roasted almonds.
Ingredients
In your box:
1 pack of lamb leg steaks
1 pack of carrot batons
1 bag of baby spinach
1 pack of chickpeas
1 red onion
1 pack of Israeli couscous
1 pot of pomegranate glaze
1 pot of mint yoghurt
1 sachet cinnamon roasted almonds
SHARE YOUR CREATION WITH US!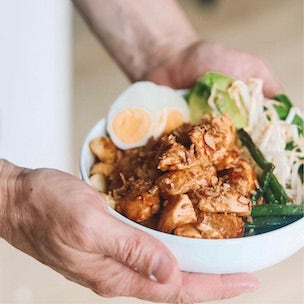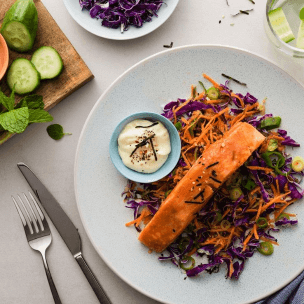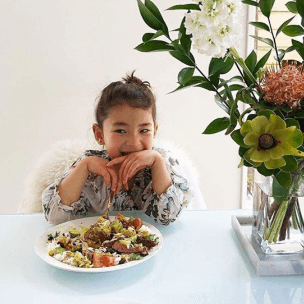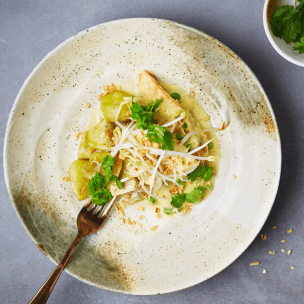 use the hashtag #woopnz to be featured