Pan fried sirloin steak
with garlic butter potatoes, spring greens and a minty crème fraiche
RECIPE FACT:
Did you know that asparagus takes 3 years to grow from weed to harvest?
Nutritional Info:
Energy: 2531kj (604Kcal)
Protein: 51g
Carbohydrate: 33g
Fat: 33g
Contains: Milk, Sulphites
Serving Amount:
Serves 4 people
Cooking Instructions:
Before cooking:

Bring a kettle of water to the boil.

1. TO PREPARE THE ASPARAGUS AND COOK THE POTATOES:

Snap the woody ends off the asparagus and discard – they will naturally snap in the right place. Heat a drizzle of oil in a non-stick frying pan over a medium high heat. When the pan is hot add the steamed gourmet potatoes and cook for 4-5 mins turning regularly. Add the garlic butter and cook for a further 1 min. Add the baby spinach and toss until wilted. Place the potatoes and spinach into a serving dish and cover to keep warm. Wipe out the pan with a paper towel and set aside.

2. TO COOK THE BEEF SIRLOIN:

Remove the beef sirloin steaks from its packaging and pat dry with a paper towel and season with salt and pepper. Heat 1 tbsp of olive oil in the reserved pan over a medium high heat. When the pan is hot add the beef sirloin and cook for 2-3 mins each side for medium rare, cook a little longer if you like your steaks more cooked. Remove from the pan and place onto a plate to rest for 2-3 mins before slicing into 2 cm pieces.

3. TO COOK THE VEGETABLES:

Using the hot water from the kettle, bring a pot of salted water to the boil over a high heat. Add the asparagus to the pot of boiling water and cook for 1 min then add the peas and cook for a further 2 mins. Drain into a colander and drizzle with olive oil and season with salt and pepper.

TO SERVE:

Spoon some minty crème fraiche onto plates and spread. Top with garlic butter potatoes, asparagus and peas and sliced beef sirloin. Spoon over any resting juices from the beef.
Ingredients
In your box:
1 pack of beef sirloin
1 pack of baby spinach
1 bunch of asparagus
1 pot of peas
1 pack of steamed gourmet potatoes
1 pot of garlic butter
1 pot of minty crème fraiche
SHARE YOUR CREATION WITH US!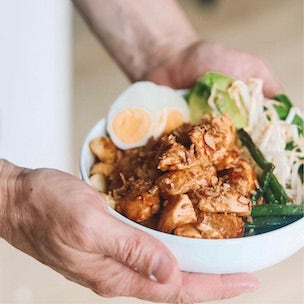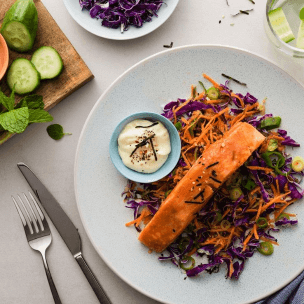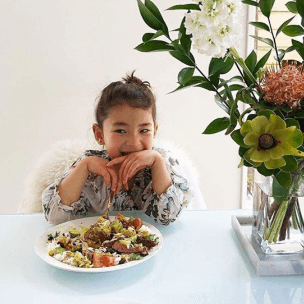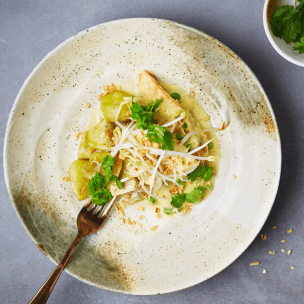 use the hashtag #woopnz to be featured