Pan fried halloumi with dukkah
roasted pumpkin and barley
RECIPE FACT:
Dukkah is a dry mix of roasted nuts and spices that originates from Egypt and is used widely throughout the Middle East.
Nutritional Info:
Energy: 2915kj (696Kcal)
Protein: 30g
Carbohydrate: 41g
Fat: 40g
Contains: Milk, Gluten, Tree Nuts, Sesame
Serving Amount:
Serves 2 people
Cooking Instructions:
"
Before cooking:

PREHEAT OVEN TO 210⁰C (FAN BAKE).

1. TO COOK THE PUMPKIN:

Line an oven tray with baking paper. Place the diced pumpkin on the oven tray. Drizzle with olive oil, season with salt and pepper and place in the oven for 15-16 mins.

2. TO PREPARE THE WARM BARLEY:

Slice the roasted red capsicum into 1 cm strips. Remove the mint leaves from their stalks. Open the bag of steamed barley, gently squeezing on the bag to break up any large clumps. Place a non-stick frying pan over a medium-high heat with a drizzle of olive oil. Once add the capsicum, barley, season with salt and cook for 2-3 mins. Remove from the pan into a salad bowl and cover to keep warm.

3. TO COOK THE HALLOUMI:

Slice the halloumi into 1 cm slices. Wipe out the pan drizzle in some olive oil and place back over a medium heat. Once hot add the halloumi slices and cook for 1-2 mins each side until golden.

4. TO ASSEMBLE THE WARM BARLEY AND HALLOUMI:

Toss the baby kale with the warm barley and the mint leaves. Add the roasted pumpkin, pour in the pomegranate dressing and toss to combine. Season with salt and pepper.

TO SERVE:

Spoon warm barley and vegetables onto a plates. Top with pan-fried halloumi, dollop with hummus and sprinkle with dukkah.
"
Ingredients
In your box:
1 pack of halloumi
1 pack of steamed barley
1 pot of pomegranate dressing
1 pot of hummus
1 sachet of dukkah
1 pot of roasted capsicum
1 bag of diced pumpkin
1 bag of baby kale
1 bag of mint
SHARE YOUR CREATION WITH US!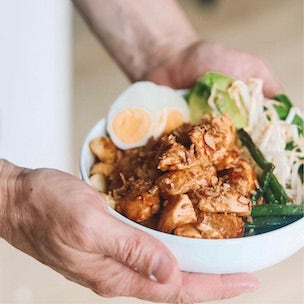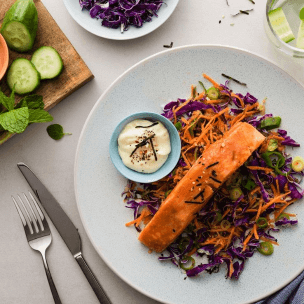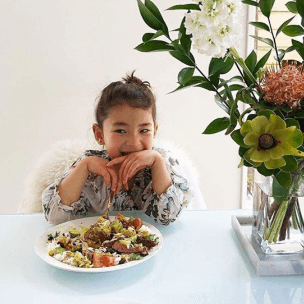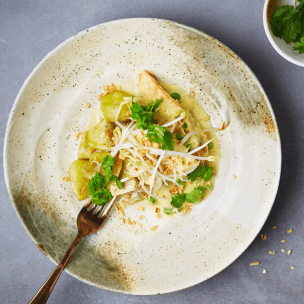 use the hashtag #woopnz to be featured