Oven roasted tandoori chicken
and pumpkin with biriyani cauliflower rice
RECIPE FACT:
Tandoori chicken gets its name from the tandoor, a clay oven where it is traditionally cooked.
Nutritional Info:
Energy: 1900kj (454Kcal)
Protein: 41g
Carbohydrate: 21g
Fat: 14g
Contains: Milk
Serving Amount:
Serves 1 person
Cooking Instructions:
Before cooking:

PREHEAT OVEN TO 210℃ (FAN BAKE).

1. TO COOK THE TANDOORI CHICKEN AND PUMPKIN:

Line an oven tray with baking paper. Remove the free-range chicken breast from its packaging and pat dry with a paper towel. Slice into 3 even pieces and place on the oven tray with the steamed pumpkin. Coat the chicken pieces well with the tanodoori paste. Season the chicken and pumpkin with salt and bake in the oven for 15-18 mins.

2. TO COOK THE POPPADOM:

Microwave option: Place the cumin poppadom in microwave and cook on high for 30-40 secs turning over halfway through the cooking time. Stove top option: Spray a non-stick frying pan with oil and place over a high heat. Once the pan is smoking hot cook the poppadum for about 10-15 seconds on each side. It will harden up as it cools.

3. TO COOK THE BIRIYANI CAULIFLOWER RICE:

Slice the silverbeet into ½ cm strips discarding any stalk. Spray a non-stick frying pan with oil and place over a medium-high heat. Once hot add the silverbeet and cook for 1-2 mins. Add the cauliflower rice and cook for 1-2 mins. Add the biriyani spice mix with 1 tbsps of water and cook for 1-2 mins.

TO SERVE:

Spoon biriyani cauliflower rice into a bowl. Top with oven roasted tandoori chicken and pumpkin. Dollop with mango chutney and serve with poppadum on the side.
Ingredients
In your box:
1 pack of free-range chicken breasts
1 pack of steamed pumpkin
1 pot of tandoori paste
1 sachet of biriyani spice blend
1 pot of yoghurt
1 pack of cumin poppadum
1 pack of cauliflower rice
1 bag of silverbeet
SHARE YOUR CREATION WITH US!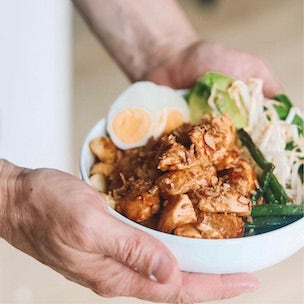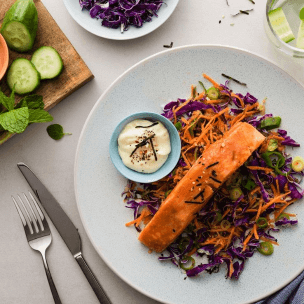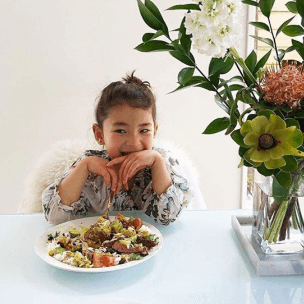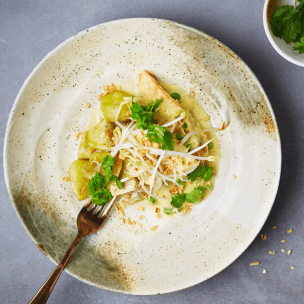 use the hashtag #woopnz to be featured