Nici Wickes' French tarragon chicken
with crispy potatoes and a citrus rocket salad
RECIPE FACT:
What does Lyon have in common with New York? Both cities feature statues designed by the same sculptor. Frédéric Auguste Bartholdi, who created the Statue of Liberty, also designed the Fontaine Bartholdi, which can be found in Lyon's Place des Terreaux.
Nutritional Info:
Energy: 2516kj (601Kcal)
Protein: 42g
Carbohydrate: 37g
Fat: 32g
Contains: Milk, Sulphites, Tree Nuts
Serving Amount:
Serves 1 person
Cooking Instructions:
Before cooking:

Preheat the oven to 200°C (fan bake).

1. TO COOK THE POTATOES:

Spread the steamed potatoes out on an oven tray lined with baking paper and drizzle with 1 tbsp of cooking oil and season with salt. Jiggle the tray to coat well. Cook in the oven for 15 – 18 mins or until crisp.

2. TO COOK THE CHICKEN:

Remove the free-range chicken breast from its packaging and pat dry with a paper towel. Slice each breast in half lengthwise down the middle to create two strips. Heat 2 tbsps of olive oil in a non- stick frying pan over a medium-high heat and once hot add the chicken pieces and cook for 3-4 mins on each side to colour and cook through. Reduce the heat to medium-low and pour over the French tarragon sauce. Allow to simmer for 2 mins to heat the sauce through.

3. TO PREPARE THE SALAD:

Place rocket in a salad bowl. Peel the orange and then cut into segments. Scrape any orange juice from board over the salad. Arrange in the bowl with the rocket. Drizzle with 2 tbsps of olive oil. Season with salt and pepper and sprinkle over toasted almonds.

TO SERVE:

Arrange potatoes on plates or in a side dish. Place chicken pieces into bowls and pour over French tarragon sauce from the pan. Serve rocket, orange and almond salad on the side or as a garnish on top of the chicken.
Ingredients
In your box:
1 pack of free-range chicken breast
1 bag of steamed potatoes
1 pot of French tarragon sauce
1 sachet of toasted almonds
1 bag of rocket
1 Orange
SHARE YOUR CREATION WITH US!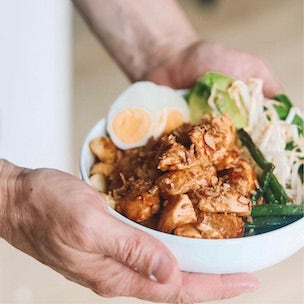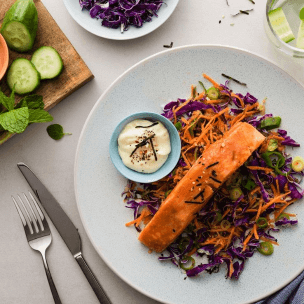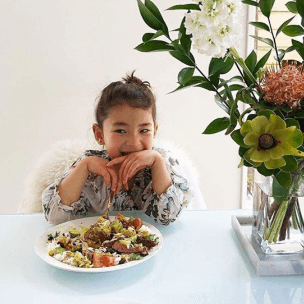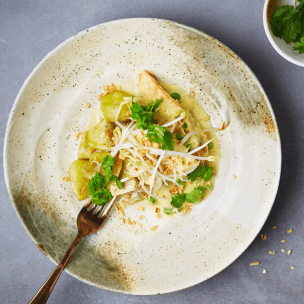 use the hashtag #woopnz to be featured