Moroccan chickpeas
with harissa vegetables and toasted honey almonds
RECIPE FACT:
Chickpeas are the oldest cultivated legume and are used frequently in North African, Roman and Greek cuisine.
Nutritional Info:
Energy: 3858kj (922Kcal)
Protein: 26g
Carbohydrate: 89g
Fat: 46g
Contains: Tree Nuts
Serving Amount:
Serves 4 people
Cooking Instructions:
Before cooking:

PREHEAT THE OVEN TO 210⁰C (FAN BAKE).

1. TO COOK THE VEGETABLES AND QUINOA:

Line an oven tray with baking paper. Place the diced kumara on the tray. Peel the carrots, cut in half lengthways and cut into ½ cm semi circles. Place on the tray with the kumara. Drizzle with oil, season with salt and pepper and bake in the oven for 10-12 mins. Open the bag of quinoa, squeezing gently on the bag to break up any large clumps. Add the quinoa to the vegetable on the baking tray and bake for a further 4-5 mins to heat the quinoa.

2. TO COOK THE MORROCAN CHICKPEAS:

Place the chickpeas into a sieve and rinse under cold running water. Drain well. Rip the cavolo nero leaves off their stalks and discard the stalks. Pile the leaves on top of each other, roll up and slice into ½ cm strips. Place a non-stick frying pan over a medium-high heat with a drizzle of olive oil. Once hot add the cavolo nero and cook for 1-2 mins. Add the chickpeas, season with salt and cook for 1-2 min. Pour in the roasted capsicum sauce and heat for 2-3 mins.

3. TO ASSEMBLE THE HARISSA ROASTED VEGETABLES:

Remove the mint leaves and Italian parsley leaves from their stalks and roughly chop. Place the roasted vegetables and quinoa into a salad bowl. Add the herbs, pour in the harissa dressing and toss to combine. Season with salt and black pepper.

TO SERVE:

Spoon harissa roasted vegetables and quinoa onto plates. Top with Moroccan chickpeas and sprinkle with honey toasted pistachios.
Ingredients
In your box:
2 tins of chickpeas
1 bag of quinoa
1 pot of roasted capsicum sauce
1 pot of harissa dressing
1 sachet of honey toasted pistachios
1 bag of kumara
3 carrots
1 bag of cavolo nero
1 bag of mint and parsley
SHARE YOUR CREATION WITH US!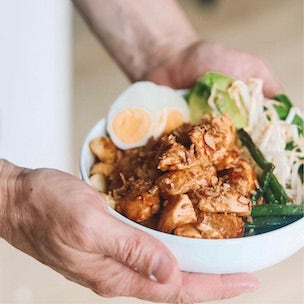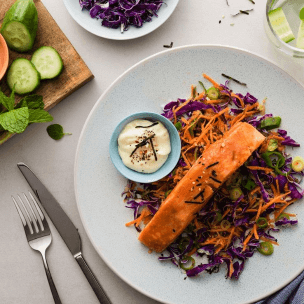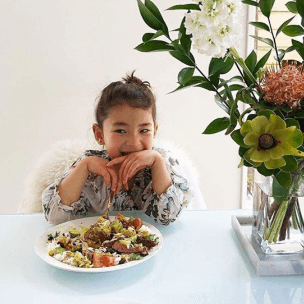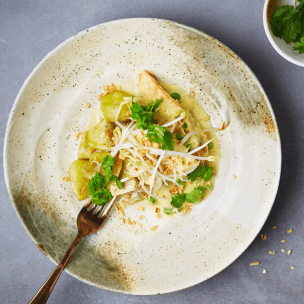 use the hashtag #woopnz to be featured