Miso grilled salmon
with sesame carrot slaw and nori spinkle
RECIPE FACT:
Miso is a fermented food which contains probiotics (good bacteria) which may benefit gut health.
Nutritional Info:
Energy: 2508kj (599Kcal)
Protein: 33g
Carbohydrate: 37g
Fat: 33g
Contains: Fish, Sesame, Soy, Gluten, Milk, Egg
Serving Amount:
Serves 1 person
Cooking Instructions:
Before cooking:

PREHEAT THE OVEN TO 200⁰C (fan bake).

1. TO COOK THE SALMON:

Place salmon fillet(s) skin side down on an oven tray lined with baking paper. Spoon over the miso topping and bake in the oven for 10 mins.

2. TO WARM THE RICE:

Spray oil into a non-stick frying pan and once hot add the steamed brown rice. Allow to warm for 2-3 mins then set aside to cool a little.

3. TO MAKE THE SESAME CARROT SLAW:

Peel and grate half the carrot. Finely slice the spring onion. In a bowl mix the red and green cabbage, carrot, spring onion and rice. Pour in the sesame dressing and toss to combine. Sprinkle over half the nori seed sprinkle.

TO SERVE:

Spoon sesame carrot slaw onto a plate. Top with miso grilled salmon and pour over any pan juices. Sprinkle over the remaining nori seed sprinkle and dollop with wasabi mayo.
Ingredients
In your box:
1 pack of salmon fillet
1 pack of steamed brown rice
1 pot of sesame dressing
1 pot of miso topping
1 pot of wasabi mayonnaise
1 sachet of nori seed sprinkle
1 bag of red and green cabbage
1 Carrot
1 Spring Onion
SHARE YOUR CREATION WITH US!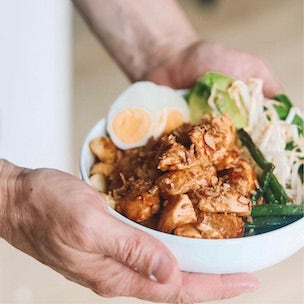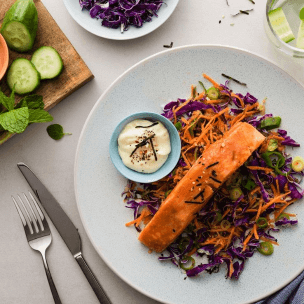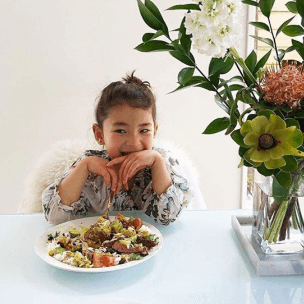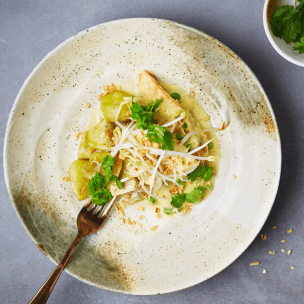 use the hashtag #woopnz to be featured