Mexican eggs and kumara
with chipotle mole and avocado crema
RECIPE FACT:
Tortillas date back as far as 10,000 years BC and were the principal food source of the Aztecs.
Nutritional Info:
Energy: 2723kj (650Kcal)
Protein: 28g
Carbohydrate: 77g
Fat: 24g
Contains: Gluten, Egg, Soy, Milk
Serving Amount:
Serves 4 people
Cooking Instructions:
Before cooking:

PREHEAT THE OVE TO 210⁰C (FAN BAKE).

1. TO COOK THE KUMARA AND TORTILLAS:

Line an oven tray with baking paper. Place the steamed kumara on the tray, drizzle with oil and bake in the oven for 18-20 mins. Wrap the wholemeal tortillas in tin foil and place in the oven with the kumara when there is 5 mins remaining. Roughly chop the coriander including the stalks.

2. TO COOK CHIPOTLE MOLE:

Slice the roasted red capsicum into 1 cm strips. Place a non-stick frying pan over a medium-high heat with a drizzle of oil. Once hot add the corn and capsicum and cook for 4-5 mins stirring occasionally to create a char. Add the chipotle mole and cook for 1-2 min. Stir through the baby spinach until just wilted and season with salt and pepper.

3. TO COOK THE EGGS:

Using a spoon, make 8 indents in the chipotle mole and reduce the heat to medium-low. Crack an egg into each indent and cover with a lid or tin foil. Cook for 3-5 mins until the whites are cooked – a little longer if you prefer firmer eggs. Season with salt and pepper.

TO SERVE:

Spoon eggs and chipotle mole onto plates. Top with roasted kumara and dollop with avocado crema. Sprinkle with chopped coriander and serve with tortillas on the side for dipping.
Ingredients
In your box:
2 packs of eggs
1 pack of steamed kumara
1 pack of wholemeal tortillas
1 pot of chipotle mole
1 pot of avocado crema
1 pot of corn
1 pot of roasted capsicum
1 bag of baby spinach
1 bag of coriander
SHARE YOUR CREATION WITH US!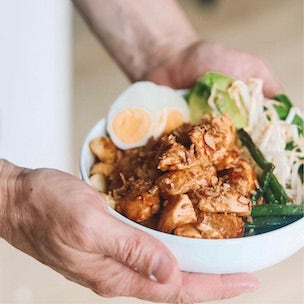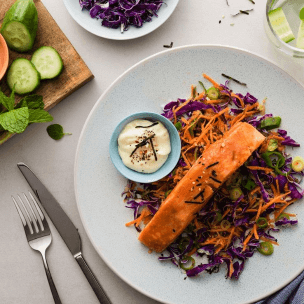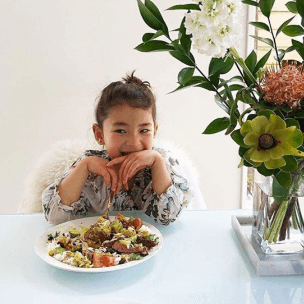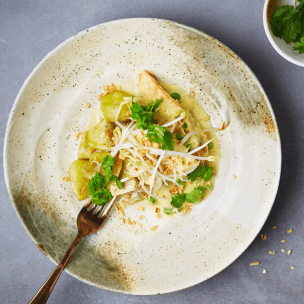 use the hashtag #woopnz to be featured