Mediterranean spiced lamb
with caramelised vegetable tabbouleh and babaganoush
RECIPE FACT:
Orange vegetables like the ones in this meal are rich in vitamin C and help improve immune function.
Nutritional Info:
Energy: 2303kj (550Kcal)
Protein: 32g
Carbohydrate: 38g
Fat: 21g
Contains: Sesame, Gluten, Tree Nuts
Serving Amount:
Serves 2 people
Cooking Instructions:
Before cooking:

PREHEAT THE OVEN TO 210⁰C (FAN BAKE). BOIL THE KETTLE.

1. TO COOK THE BULGUR:

Pour boiling water from the kettle into a pot, season with salt, add the bulgur wheat and bring to the boil over a high heat. Cook for 8-10 mins, drain well into a sieve.

2. TO COOK THE VEGETABLES:

Line an oven tray with baking paper and empty the carrot batons onto the tray with the steamed pumpkin. Spray with oil, season with salt and place in the pre-heated oven for 20-25 mins until vegetables are cooked through and starting to caramalise.

3. TO COOK THE LAMB:

Spray oil onto a non-stick frying pan and place over a high heat. Once the pan is very hot add the Turkish spiced lamb strips and cook for 30-60 secs. Don't cook any longer as this will make the lamb tough. Season with salt to taste.

4. TO ASSEMBLE THE CARMELISED VEGETABLE TABBOULEH:

Place roasted vegetables in a salad bowl, with the bulgur wheat and the baby spinach. Pour in the orange dressing, season with salt and pepper to taste and toss to combine.

TO SERVE:

Arrange caramelised vegetable tabbouleh onto plates. Open the babaganoush and stir with a spoon. Spread onto plates and top with Turkish lamb. Lastly, sprinkle over toasted pinenuts and golden raisins.
Ingredients
In your box:
1 pack of Mediterranean spiced lamb strips
1 bag of steamed pumpkin
1 pot of babaganoush
1 sachet of bulgur wheat
1 pot of orange dressing
1 sachet of toasted pinenuts and golden raisins
1 bag of baby spinach
1 bag of carrot batons
SHARE YOUR CREATION WITH US!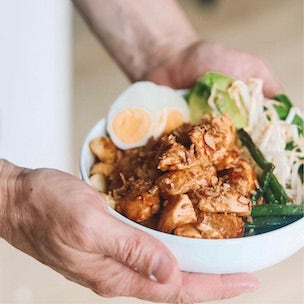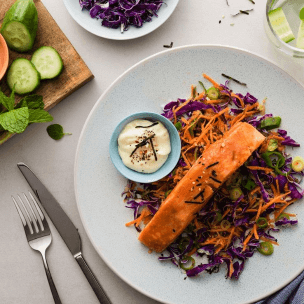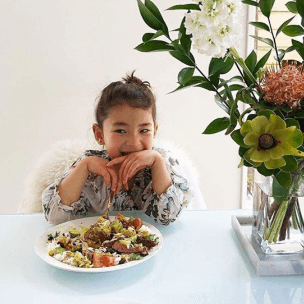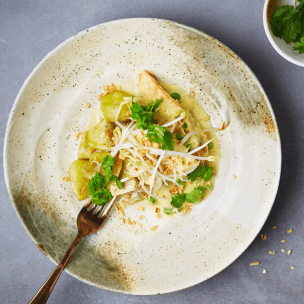 use the hashtag #woopnz to be featured