RECIPE FACT:
The name Marrakesh is rooted in the Berber phase murr akush meaning "the land of God."
Nutritional Info:
Energy: 2585kj (617Kcal)
Protein: 33g
Carbohydrate: 42g
Fat: 44g
Contains: Milk, Tree Nuts
Serving Amount:
Serves 4 people
Cooking Instructions:
Before cooking:

Pre-heat oven to 210°C fan bake Bring a medium sized pot of salted water to the boil.

1. TO PREPARE THE GRATIN POTATO:

Line a medium sized oven dish with baking paper. Open and lay the sliced potato inside the dish. Pour over the gratin herb cream then sprinkle the grated cheese over the top. Place into the preheated oven for 22-25 mins. Remove from the oven and season with salt and pepper.

2. TO COOK THE MARRAKESH LAMB:

Drizzle 1 tbsp of oil in a non-stick frying pan over a medium-high heat. When the pan is hot add the slow cooked lamb and cook for 4-5 mins tuning often until crispy. Add the Marrakesh lamb sauce to the pan and bring up to a simmer.

3. T0 PREPARE AND COOK THE VEGGIES:

Trim the ends off the green beans and discard. Cut the courgette in half lengthways through the middle then slice into 1 cm half-moons. Add the green beans to the boiling water and cook for 2 mins, add the courgette and cook for a further 1 min. Drain into a colander then place into a serving dish with a drizzle of olive oil and season with salt and pepper.

To serve:

Spoon the potato gratin followed by the Marrakesh lamb onto plates. Sprinkle with toasted sliced almonds and serve with veggies.
Ingredients
In your box:
1 pack of slow cooked lamb
1 pack of green beans
broccoli
1 pot of grated cheese
1 pot of gratin herb cream
1 pack of steamed sliced potatoes
1 pot of Marrakesh lamb sauce
1 sachet of toasted sliced almonds
SHARE YOUR CREATION WITH US!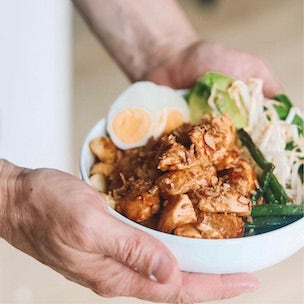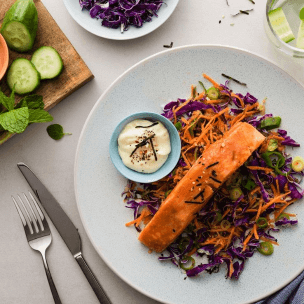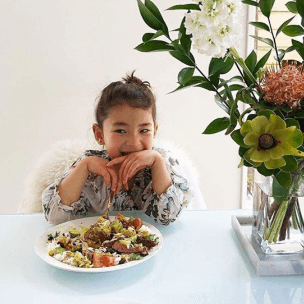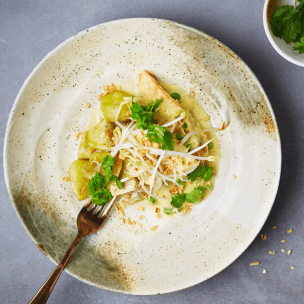 use the hashtag #woopnz to be featured