Loaded kumara fries
with Tex-Mex black beans and red capsicum salsa
RECIPE FACT:
Did you know, that Tex-Mex was originally the abbreviated name of the Texas Mexican railway which began operation in 1877 in South Texas.
Nutritional Info:
Energy: 2583kj (617Kcal)
Protein: 19g
Carbohydrate: 84g
Fat: 18g
Contains: Milk
Serving Amount:
Serves 1 person
Cooking Instructions:
Before cooking

Preheat the oven to 210⁰C (fan bake).

1. TO COOK THE KUMARA:

Line an oven tray with baking paper. Place the steamed kumara on the tray. Drizzle with olive oil and season with salt. Place the tray in the oven and bake for 20-25 mins.

2. TO PREPARE THE SALSA:

Using half the red onion, peel and slice finely. Slice the roasted red capsicum into 1 cm strips. Place a non-stick frying pan over a medium-high heat. Once hot, drizzle with olive oil and add the onion slices. Cook for 2-3 mins. Add the capsicum strips and the corn, season with salt and cook for 4-5 mins stirring occasionally to create a char. Add to a bowl, drizzle with a little olive oil and freshly cracked pepper. Toss to combine.

3. TO COOK THE TEX-MEX BLACK BEANS:

Place the black beans into a sieve, rinse under running water and drain well. Wipe out the pan and place back over a medium heat. Once hot, drizzle with a little oil and add the black beans. Cook for 1-2 mins then add the Tex-Mex sauce to the pan. Cook for 2-3 mins. Add the baby spinach and cook for 1-2 mins until wilted. Season with salt and pepper.

TO SERVE:

Place kumara fries onto a plate and top with Tex-Mex black beans and spinach. Spoon on capsicum salsa and dollop with avocado cream. Sprinkle with spiced pepitas.
Ingredients
In your box:
1 pack black beans
1 pack of steamed kumara
1 pot of Tex-Mex sauce
1 pot of avocado cream
1 sachet of spiced pepitas
1 red onion
1 pot of roasted red capsicum
1 pot of corn
1 bag of baby spinach
SHARE YOUR CREATION WITH US!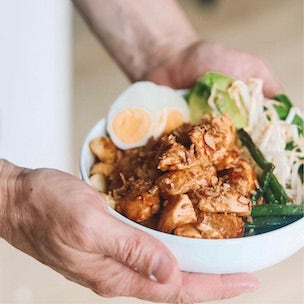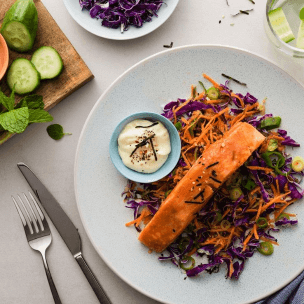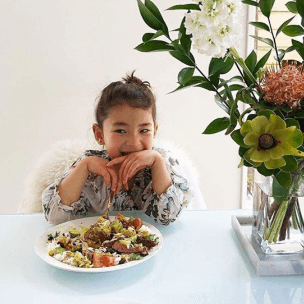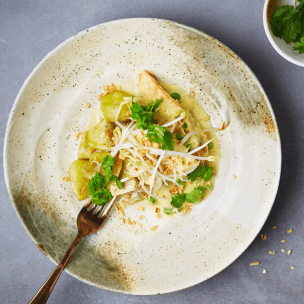 use the hashtag #woopnz to be featured