Lemongrass and mushroom patties
with lime sticky black rice and mung beans
RECIPE FACT:
Did you know that larb is the national dish of Laos and is a balance of sweet, sour and salty flavours.
Nutritional Info:
Energy: 2221kj (530Kcal)
Protein: 18g
Carbohydrate: 75g
Fat: 27g
Contains: Tree Nuts
Serving Amount:
Serves 1 person
Cooking Instructions:
1. TO PREPARE THE VEGETABLES AND BLACK RICE:

Open the bag of black rice, squeezing gently on the bag to break up the clumps. Place a non-stick frying pan over a medium high heat with a drizzle of oil. Once hot add the rice to the pan and the sliced wombok cabbage, season with salt and cook for 2-3 mins. Remove from the pan into a salad bowl and cover to keep warm.

2. TO COOK THE LEMONGRASS AND MUSHROOM PATTIES:

Using half the carrot, peel and grate. Place the mushroom and hemp mince into a bowl with the carrot and the lemongrass and kaffir lime paste. Season with salt and mix well. Form int balls the size of golf balls and flatten into patties. Wipe out the pan and place back over a medium-high heat with a drizzle of oil. Once the pan is hot add the patties and cook for 4-5 mins each side.

3. TO FINISH THE LIME STICKY BLACK RICE:

Remove the mint leaves from their stalks and add to the salad bowl with the lime dressing. Toss to combine.

TO SERVE:

Spoon lime sticky black rice into a bowl. Top with lemongrass and mushroom patties. Serve with mung beans on the side and sprinkle with crispy shallots and cashews.
Ingredients
In your box:
1 pack of mushroom and hemp mince
1 bag of black rice
1 pot of lemongrass and kaffir lime paste
1 pot of lime dressing
1 sachet of toasted shallots and cashews
1 bag of sliced wombok cabbage
1 bag of mung beans
1 carrot
1 bag of mint
SHARE YOUR CREATION WITH US!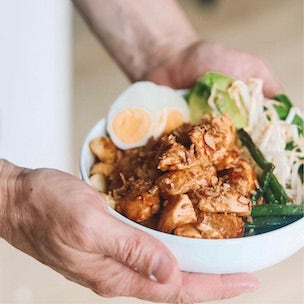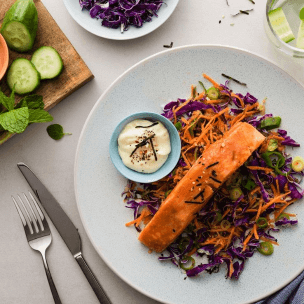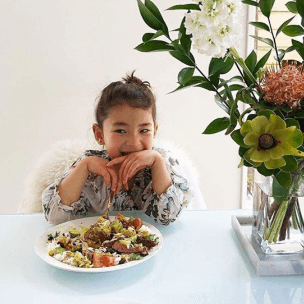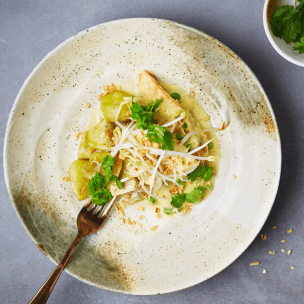 use the hashtag #woopnz to be featured