Lemon parsley crumbed chicken
with cheesy potato roasties and a tomato and rocket salad
RECIPE FACT:
T. Rex is more closely related to chickens than alligators. Some scientists go so far to say birds (chickens) are modern dinosaurs
Nutritional Info:
Energy: 3048kj (728Kcal)
Protein: 47g
Carbohydrate: 48g
Fat: 36g
Contains: Milk, Gluten, Egg
Serving Amount:
Serves 4 people
Cooking Instructions:
Before cooking:

Preheat oven to 220°C (fan bake)

1. PREPARE AND COOK THE POTATOES:

Place the steamed potatoes on a baking tray lined with baking paper. Drizzle with a little olive oil and bake in the pre-heated oven for 15 mins. Remove and season with salt and pepper. Sprinkle with grated mozzarella cheese, return to the oven for a further 10 mins, until golden and crispy.

2. PREPARE AND COOK CHICKEN:

Remove the free-range chicken breasts from their packaging and pat dry with a paper towel. Cut chicken breasts in half horizontally by holding flat on a board and slicing through sideways. Mix flour in a bowl with salt and pepper. Break egg into another bowl and whisk. Spread chicken crumbs on a plate. First dip chicken pieces in flour mix and shake off excess, then dip in egg mix and allow excess to drip off. Finally roll in chicken crumb to coat well. Place crumbed chicken on a lined tray with baking paper. Drizzle with olive oil and bake for 13-15 mins, until cooked through.

3. TO PREPARE THE SALAD:

Trim the ends off the cucumber. Using a peeler pull it lengthways along the cucumber to create ribbons about 2 cm wide, add to a medium sized bowl. Dice tomatoes into 2 cm cubes, add to bowl with cucumber, rocket and balsamic dressing. Toss and season to taste.

To serve:

Divide chicken, cheesy roasties and salad between plates. Serve with a dollop of mustard mayo.
Ingredients
In your box:
1 pack of free-range chicken breast
1 pot of grated mozzarella cheese
2 tomatoes
1 Lebanese cucumber
1 pack of rocket
1 pack of lemon parsley crumb
1 pot of balsamic dressing
1 pack of steamed potatoes
1 pot of mustard mayo
Pantry Staples:
3 tbsps flour
2 eggs
SHARE YOUR CREATION WITH US!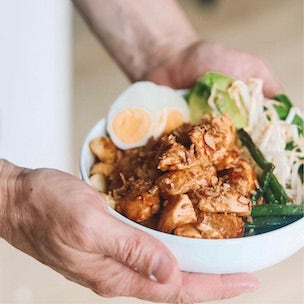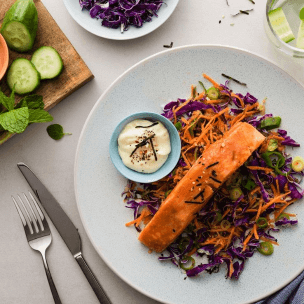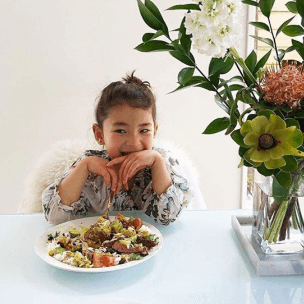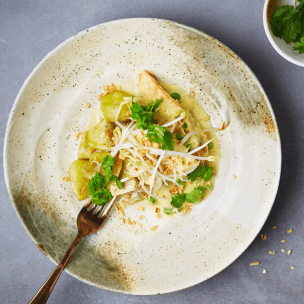 use the hashtag #woopnz to be featured