Lebanese Chicken
with babaganoush and a tomato bulgur and kale salad
RECIPE FACT:
In the Middle East, Lebanon is the only country that lacks a desert. It has a ski field that is open for 3 months of the year.
Nutritional Info:
Energy: 2715kj (648Kcal)
Protein: 41g
Carbohydrate: 43g
Fat: 31g
Contains: Milk, Tree Nuts, Gluten, Sesame
Serving Amount:
Serves 4 people
Cooking Instructions:
"
1. TO MARINADE THE CHICKEN AND COOK THE BULGUR WHEAT:

Remove the chicken thighs from their packaging and place in a bowl with the Lebanese chicken marinade and mix to coat. Heat 1 tbsp of olive oil in a pot over a medium-high heat. When the oil is hot add the Lebanese spice paste and cook for 1 min. Add the bulgur wheat and 800 mls of water then stir. Once boiling, reduce to a simmer and cook for 10 mins. Drain off any excess liquid.

2. TO PREPARE THE TOMATO & KALE SALAD:

Dice the tomato into 1 cm cubes. Pick the leaves from the curly parsley and finely chop. Add the tomato and parsley and baby kale to a serving bowl with a drizzle of olive oil and season with salt and pepper. Toss salad before serving. Crumble the feta over the carrot and parsnip and drizzle over 1 tbsp of olive oil and season with salt and pepper. Cook in the preheated oven for 18-20 mins.

3. TO COOK THE LEBANESE CHICKEN:

Heat 1 tbsp of olive oil in a non-stick frying pan over a medium-high heat. When the pan is hot cook for 3-4 mins each side then remove from the pan and slice into 1 cm strips.

TO SERVE:

Spread the babaganoush on the bottom of each plate then top with some tomato bulgur. Top with tomato and kale salad, finishing with chicken and toasted almond and cranberries.
"
Ingredients
In your box:
1 pack of free-range chicken thigh
1 pot of Lebanese chicken marinade
1 bag of baby kale
1 pack of bulgur wheat
2 tomatoes
1 pack of curly parsley
1 pot of babaganoush
1 pack of toasted almonds and cranberries
1 pot of Lebanese spice paste
SHARE YOUR CREATION WITH US!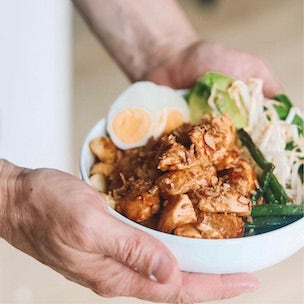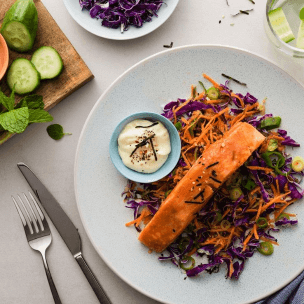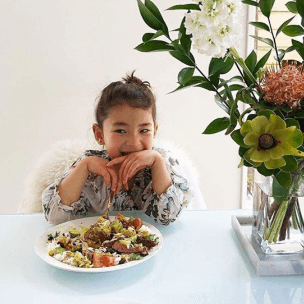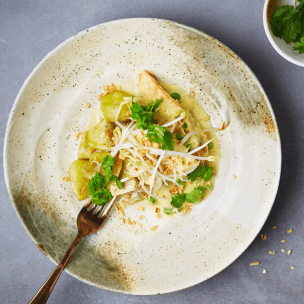 use the hashtag #woopnz to be featured