Lamb korma meatballs on rice
with charred cauliflower, peas and almonds
RECIPE FACT:
Korma can be traced back to the 16th century. The word korma is derived from Persian meaning braised.
Nutritional Info:
Energy: 3105kj (742Kcal)
Protein: 50g
Carbohydrate: 59g
Fat: 38g
Contains: Milk, Tree Nuts
Serving Amount:
Serves 4 people
Cooking Instructions:
Before cooking:

Preheat the oven to 210⁰C (fan-bake).

1. TO PREPARE THE RICE:

Place the cardamom rice into a pot with a tight-fitting lid with 500 mls of warm water. Place pot on stovetop and bring to the boil over a high heat. Once the rice is boiling put the lid on the pot and reduce the heat to low and simmer for 12 mins. Remove from the heat and leave with the lid still on for a further 4 mins. Remove the lid. Fluff the rice with a fork and discard the cardamom pods.

2. TO COOK THE VEGETABLES:

Roughly chop the coriander including the stalks which have lots of flavour and set aside. Cut the cauliflower into small florets and discard the stalk. Arrange cauliflower on an oven tray lined with baking paper and drizzle with 1 tbsp of oil and place into the preheated oven for 15 mins. Add the peas and return to the oven for a further 2-3 mins. Remove and season with salt and pepper.

3. TO COOK THE LAMB MEATBALL KORMA:

Roll the korma lamb mince into meatballs slightly smaller than a golf ball. Heat 1 tbsp of cooking oil in a large non-stick frying pan over a medium-high heat. Add the lamb meatballs and fry for 8 mins, turning regularly until browned. Stir through the korma sauce and simmer for 3 mins. Remove from the heat and season with salt and pepper to taste.

To serve:

Spoon rice into a large bowl. Then top with the lamb meatball korma followed by the charred cauliflower and peas. Garnish with a little yoghurt, toasted almonds and coriander.
Ingredients
In your box:
1 pack of korma lamb mince
1 pot of korma sauce
1 pack of cardamom rice
1 pot of peas
1 pot of yoghurt
1 sachet of toasted almonds
1 pack of coriander
cauliflower
SHARE YOUR CREATION WITH US!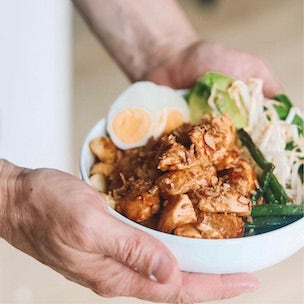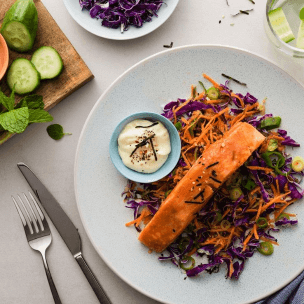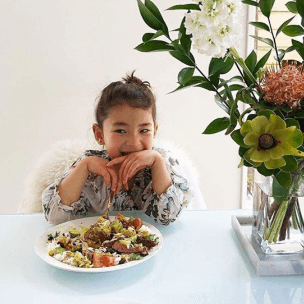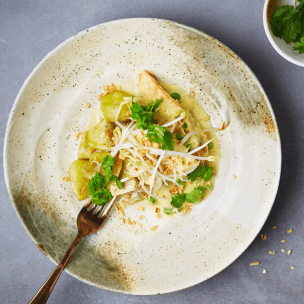 use the hashtag #woopnz to be featured