Lamb koftas
with smoky babaganoush and kale tabbouleh
RECIPE FACT:
Sometimes the city is referred to or known as 'Tripoli-of-the-West', to help distinguish it from its older Phoenician sister city, Tripoli, Lebanon
Nutritional Info:
Energy: 3166kj (756Kcal)
Protein: 40g
Carbohydrate: 51g
Fat: 39g
Contains: Gluten, Sesame
Serving Amount:
Serves 2 people
Cooking Instructions:
"
Before cooking:

Bring a pot of 250mls of salted water to the boil over a medium-high heat.

1. TO COOK THE BULGUR:

Place bulgur wheat in the pot of 250mls of boiling water and bring back to the boil. Once boiling reduce the heat to low but keep the bulgur wheat simmering and cook for 10 mins, stirring a few times. Drain bulgur wheat in a colander and spread out on a large plate to cool.

2. TO MAKE THE TABBOULEH:

Roughly chop baby kale. Cut the tomatoes into ½ cm cubes. Remove the stalk from the parsley and discard, then finely chop. Place tomato, parsley and baby kale in a bowl and pour over the lemon dressing. Toss to mix well. Just before serving stir in the cooled bulgur wheat and season with salt and pepper to taste.

3. TO COOK THE KOFTAS:

Remove the cumin & paprika spiced lamb mince from its packaging and season with salt. Mix the salt in. Then dampen your hands and form the mince into 6 evenly sized sausage shapes about 4 cm long. Heat 1- 2 tbsps of cooking oil in a non-stick frying pan over a medium-high heat. Once hot add the koftas and cook for 5-7 mins turning regularly to cook evenly and lightly brown on the outside.

TO SERVE:

Open the babaganoush and stir well with a spoon. Spread out on plates and drizzle with 1-2 tbsps of olive oil. Spoon over tabbouleh and then top with koftas.
"
Ingredients
In your box:
1 pack of cumin & paprika spiced lamb mince
1 pack of bulgur wheat
1 pot of babaganoush
1 pot of lemon dressing
1 bag of baby kale
2 tomatoes
1 bag of curly parsley
SHARE YOUR CREATION WITH US!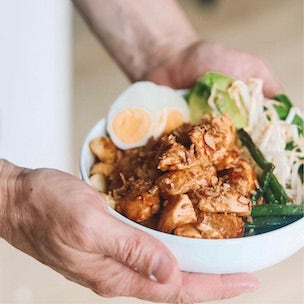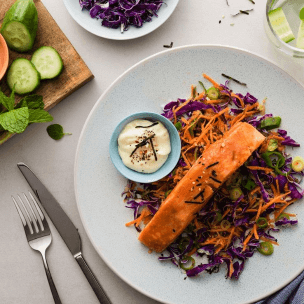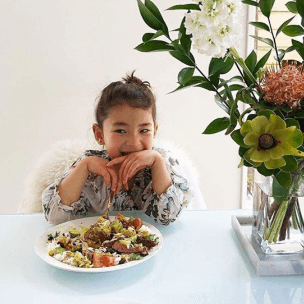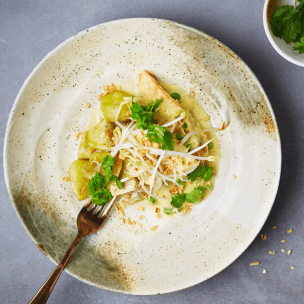 use the hashtag #woopnz to be featured