Honey and mustard pork
with rosemary & thyme roasties, broccolini, green beans and a garlic and herb sauce
RECIPE FACT:
Angelina Jolie stayed at Bury when filming Tomb raider
Nutritional Info:
Energy: 3049kj (728Kcal)
Protein: 37g
Carbohydrate: 36g
Fat: 44g
Contains: Egg, Milk
Serving Amount:
Serves 1 person
Cooking Instructions:
Before cooking:

Preheat oven to 210°C (fan bake); Boil the kettle

1. TO COOK THE POTATOES:

Empty pack of steamed potatoes onto an oven tray lined with baking paper. Pour over the rosemary & thyme oil and toss to coat. Season with salt and pepper and cook in pre-heated oven for 20 mins.

2. TO COOK THE PORK MEDALLIONS:

Remove the pork medallions from their packaging and pat dry with paper towel. Heat 1 tbsp of oil in non-stick frying pan over a medium-high heat and once hot add the pork medallions. Cook on each side for 3-4 mins then pour over the honey and mustard glaze and cook for a further 1 min. Set aside honey and mustard glazed pork on a plate to rest and cover to keep warm.

3. TO COOK THE BROCCOLINI AND GREEN BEANS:

Using the hot water from the kettle bring a pot of salted water to the boil over a high heat. Trim the ends off the broccolini and discard. Trim the ends off the green beans and discard. When water is boiling add broccolini and green beans and cook for 3 mins. Drain into a colander, drizzle with olive oil and season with salt and pepper.

TO SERVE:

Smear some roast garlic and herb sauce onto your plates. Top with veggies, rosemary and herb roasties and honey and mustard pork medallions. Drizzle over any remaining honey and mustard glaze.
Ingredients
In your box:
1 pack of pork medallions
1 pack ofbroccolini
1 pack ofgreen beans
1 pack of steamed potatoes
1 pot ofrosemary & thyme oil
1 pot ofroast garlic and herb sauce
1 pot ofhoney and mustard glaze
SHARE YOUR CREATION WITH US!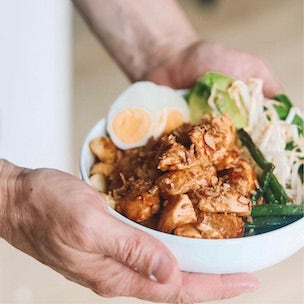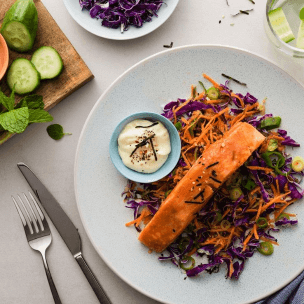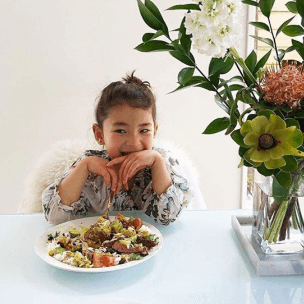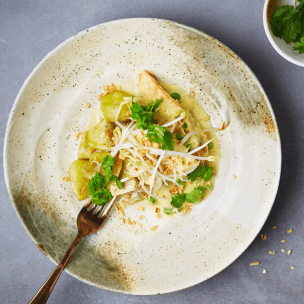 use the hashtag #woopnz to be featured