Harissa yoghurt baked chicken
with pomegranate and cranberry freekeh
RECIPE FACT:
Marinating chicken in yoghurt helps to tenderise it, as well as making it taste delicious.
Nutritional Info:
Energy: 2285kj (546Kcal)
Protein: 44g
Carbohydrate: 36g
Fat: 22g
Contains: Tree Nuts, Gluten, Milk
Serving Amount:
Serves 4 people
Cooking Instructions:
Before cooking:

PREHEAT OVEN TO 210℃ (FAN BAKE).

1. TO COOK THE HARISSA CHICKEN AND CARROTS:

Line an oven tray with baking paper. Trim the ends off the baby carrots and cut in half lengthways if on the larger side. Place in the oven for 10 mins. Remove the free-range chicken breasts from its packaging and pat dry with a paper towel. Slice each chicken breast into 3 even pieces and place in a bowl with the harissa yoghurt marinade. Season with salt and pepper and toss to coat. Place the chicken pieces on the tray with the carrots and bake for a further 10-12 mins until cooked through.

2. TO PREPARE THE VEGETABLES:

Slice the cavolo nero leaves off their stalks and discard the stalks. Pile the leaves on top of each other and slice into ½ cm strips. Slice the roasted red capsicum into 1 cm strips. Remove the mint leaves from their stalks and roughly chop. Roughly chop the coriander including the stalks.

3. TO PREPARE THE POMEGRANATE AND CRANBERRY FREEKEH:

Open the bag of steamed freekeh, squeezing gently on the back to break up any large clumps. Spray a non-stick frying pan with oil and place over a medium-high heat. Once hot add the cavolo nero and the capsicum to the pan and cook for 1-2 mins. Add the freekeh and cook for a further 1-2 mins. Season with salt and place in a salad bowl. Add the chopped herbs, cranberry and toasted almonds and pour in half the pomegranate dressing. Toss to combine.

TO SERVE:

Spoon pomegranate and cranberry freekeh onto plates. Top with roasted baby carrots and harissa yoghurt chicken. Drizzle with remaining pomegranate dressing.
Ingredients
In your box:
1 pack of free-range chicken breasts
1 pack of steamed freekeh
1 pot of harissa yoghurt marinade
1 pot of pomegranate dressing
1 sachet of cranberries and toasted almonds
1 bag of baby carrots
1 pot of roasted capsicum
1 bag of cavolo nero
1 bag of mint and coriander
SHARE YOUR CREATION WITH US!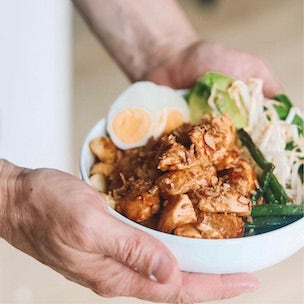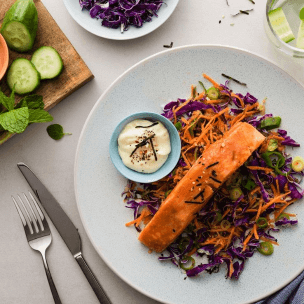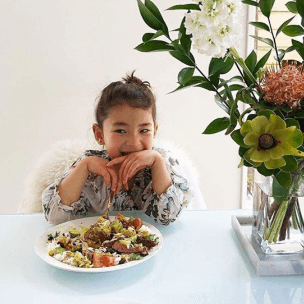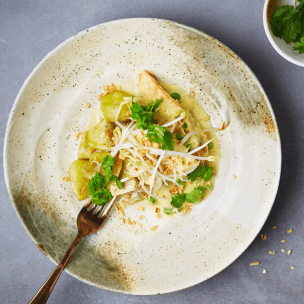 use the hashtag #woopnz to be featured