Harissa grilled chicken
with chickpeas and tomato dressing
RECIPE FACT:
Chickpeas are also known as garbanzo beans and chana, depending on where you are. Most of the world's chickpeas are produced in India.
Nutritional Info:
Energy: 2251kj (538Kcal)
Protein: 43g
Carbohydrate: 43g
Fat: 19g
Contains: Gluten
Serving Amount:
Serves 4 people
Cooking Instructions:
1. To prepare the couscous:

Place the seasoned wholemeal couscous in a bowl, season with salt and pour over ½ cup of boiling water from the kettle. Cover with a plate and leave to steam for 10 mins. Remove the mint leaves from their stalks and chop roughly.

2. TO PREPARE THE SALAD:

Spray a non-stick frying pan with oil and place over a medium-high heat. Once hot add the corn and chickpeas, season with salt and cook for 4-5 mins stirring occasionally to create a char. Add to a salad bowl and cool. Add the couscous to the salad bowl and pour in the tomato dressing, toss to combine. Peel the cucumber and cut into 1 cm cubes, add to the salad bowl with the rocket and toss to combine and season with salt and pepper.

3. TO COOK THE HARISSA CHICKEN:

Remove the free-range chicken thighs from their packaging and pat dry with a paper towel. Slice each thigh into 4 even pieces, place in a bowl with the harissa paste and season with salt. Stir to coat the chicken pieces. Respray the pan with oil and place over a medium-high heat. Once hot add the chicken pieces, adjusting the heat if necessary and cook for 3-4 mins each side until golden and cooked through.

TO SERVE:

Spoon chickpea salad onto plates and top with harissa chicken. Sprinkle with mint.
Ingredients
In your box:
1 pack of free-range chicken thighs
1 sachet of seasoned wholemeal couscous
1 pack of chickpeas
1 pot of harissa paste
1 pot of tomato dressing
2 cucumbers
1 pot of corn
1 bag of rocket
1 bag of mint
SHARE YOUR CREATION WITH US!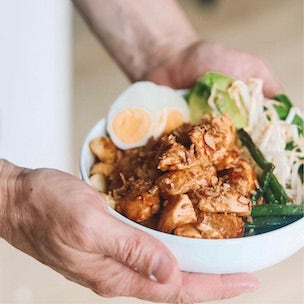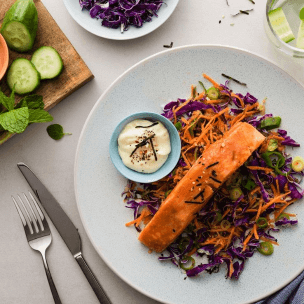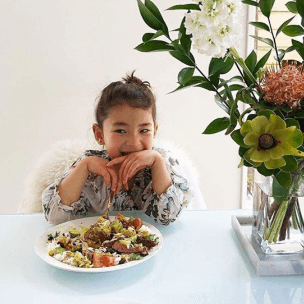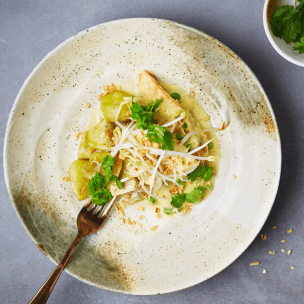 use the hashtag #woopnz to be featured