Greek marinated lamb leg steaks
with a warm couscous salad, tzatziki and toasted pinenuts
RECIPE FACT:
The Olympic Games originated in Ancient Greece.
Nutritional Info:
Energy: 3579kj (855Kcal)
Protein: 58g
Carbohydrate: 61g
Fat: 36g
Contains: Sulphites, Milk, Tree Nuts, Gluten, Milk
Serving Amount:
Serves 4 people
Cooking Instructions:
Before cooking:

Preheat your oven to 210°C fan bake and bring a large pot of water to the boil.

1. TO PREPARE AND COOK THE VEGETABLES:

Cut the broccoli into small bite sized florets and place on to an oven tray lined with baking paper along with the diced pumpkin. Drizzle with olive oil and season with salt and pepper and cook in preheated oven for 10-12 mins, sprinkle over the peas and cook for a further 2 mins

2. TO COOK THE COUSCOUS:

Empty the spiced couscous into the pot of boiling water. Bring back to the boil and cook for 16 mins. Drain well into a colander. Place into a serving dish with the roasted vegetables and a drizzle of olive oil and season with salt and pepper. Pick the leaves from the Italian parsley and mint. Discard the stalk and roughly chop the leaves then add to the couscous and vegetables then mix.

3. TO COOK THE LAMB LEG STEAKS:

Remove the marinated lamb steaks from their packaging and season with salt and pepper. Heat 1 tbsp of olive oil in a large non-stick frying pan over a medium to high heat. Cook lamb steaks for 2-3 mins each side. remove from the pan and set aside to rest for 3 mins then thinly slice. BBQ option: Heat your BBQ to medium-high heat. Cook your lamb leg steaks on your BBQ for 2-3 mins each side. When cooked allow to rest for 2-3 mins.

TO SERVE:

Divide warm couscous salad between plates top with sliced lamb. Crumble over feta, sprinkle over pinenuts and dollop over tzatziki.
Ingredients
In your box:
1 pack of Greek marinated lamb steaks
1 pot of feta cheese
1 pack of diced pumpkin
1 broccoli
1 pot of peas
1 pack of Italian parsley and mint
1 pack of pinenuts
1 pack of spiced couscous
1 pot of tzatziki
SHARE YOUR CREATION WITH US!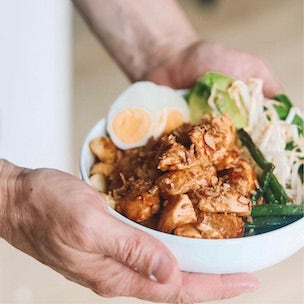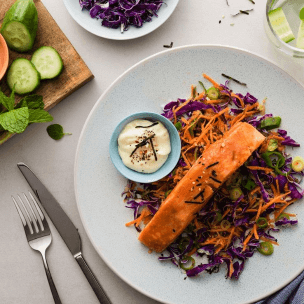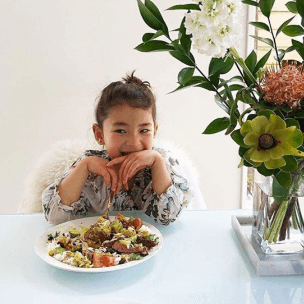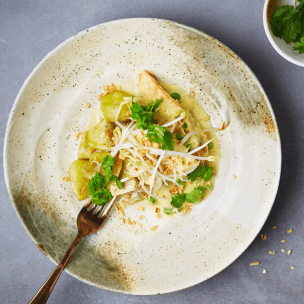 use the hashtag #woopnz to be featured