Gochujang tofu
with Korean style barley and kimchi mayo
RECIPE FACT:
Tofu is a great source of iron, calcium and provides protein in a plant-based diet.
Nutritional Info:
Energy: 3802kj (908Kcal)
Protein: 36g
Carbohydrate: 49g
Fat: 56g
Contains: Soy, Gluten, Sesame, Egg, Peanuts
Serving Amount:
Serves 1 person
Cooking Instructions:
1. TO PREPARE THE TOFU:

Using half the tofu cut into 2 cm cubes. Place in a bowl with the gochujang marinade, season with salt, toss to coat well and leave to marinade for 10 mins.

2. TO COOK THE KOREAN STYLE FRIED BARLEY:

Slice the mushrooms. Rinse the bok choy under water, cut off the root end and discard. Slice into 1 cm slices. Place a non-stick frying pan over a medium-high heat. Once hot add a drizzle of oil and add the mushrooms. Cook for 2-3 mins. Open the bag of steamed barley squeezing gently to break up any large clumps. Add to the pan and cook for 1-2 mins. Add the bok choy and edamame, season with salt and cook for 1-2 mins. Add the Korean seasoning and cook for 1-2 mins. Remove from the pan and cover to keep warm.

3. TO COOK THE GOCHUJANG TOFU:

Place the pan back over a medium heat. Once hot and 1 tbsp oil and add the tofu cubes to the pan and cook for 4-5 mins stirring occasionally to heat the tofu. Pour in the remaining marinade and cook for a further 30-60 secs until reduced.

To serve:

Spoon Korean style barley and vegetables into a bowl. Top with gochujang tofu. Dollop with kimchi mayo and sprinkle over peanuts and crispy shallots. Mix together to eat.
Ingredients
In your box:
1 pack of tofu
1 pack of steamed barley
1 pot of gochujang marinade
1 pot of Korean seasoning
1 pot of kimchi mayo
1 sachet of peanuts and crispy shallots
1 pot of edamame beans
1 bag of mushrooms
1 pack of Bok choy
SHARE YOUR CREATION WITH US!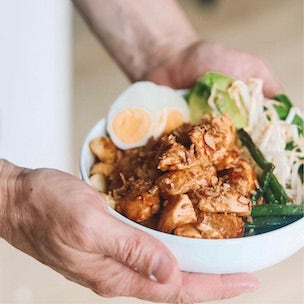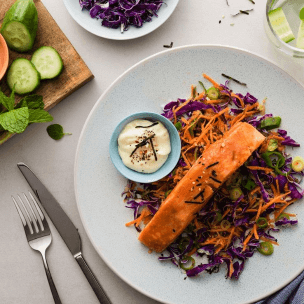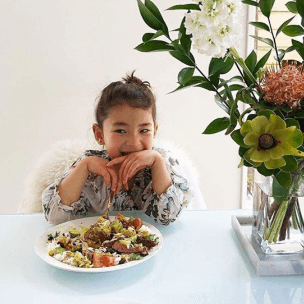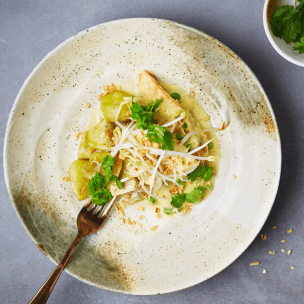 use the hashtag #woopnz to be featured