Ginger teriyaki beef and mushrooms
with peanut rice and pickled carrot
RECIPE FACT:
The word 'teriyaki' stems from the Japanese words 'teri' meaning luster and 'yaki' meaning to grill.
Nutritional Info:
Energy: 2275kj (543Kcal)
Protein: 39g
Carbohydrate: 52g
Fat: 17g
Contains: Soy, Gluten, Sesame, Peanuts
Serving Amount:
Serves 2 people
Cooking Instructions:
1. TO PREPARE THE VEGETABLES AND PICKLED CARROT

Slice the spring onions finely on the diagonal. Finely slice the mushrooms. Peel the carrot and make ribbons by running a peeler the full length along the carrot, rotating after each peel. Place the carrot ribbons in a bowl and pour over the pickle dressing, season with salt and pepper.

2. TO COOK THE PEANUT RICE:

Spray a non-stick frying pan with oil and place over a medium-high heat. Open the bag of steamed brown rice, squeezing gently on the bag to break up any large clump. Place the rice in the frying pan, season with salt and cook for 2-3 mins. Add the baby spinach and half the spring onion and cook for 1-2 mins. Remove from the pan and cover to keep warm.

3. TO COOK THE TERIYAKI BEEF AND MUSHROOMS:

Wipe out the pan, respray with oil and place back over a medium-high heat. Once hot add the mushrooms and cook for 2-3 mins. Add the gingered beef strips to the pan and pour in the teriyaki glaze cook for 30-60 secs – do not cook any longer as this will make the beef tough. Season with salt and pepper.

TO SERVE:

Spoon peanut rice into bowls and top with teriyaki beef and mushrooms pouring over any pan juices. Sprinkle with toasted peanuts and remaining spring onion. Serve with pickled carrot on the side.
Ingredients
In your box:
1 pack of gingered beef stirps
1 pack of steamed brown rice
1 pot of teriyaki glaze
1 pot of pickle dressing
1 sachet of toasted peanuts
1 pack of mushrooms
1 carrot
1 bag of baby spinach
2 spring onions
SHARE YOUR CREATION WITH US!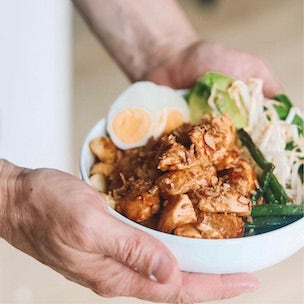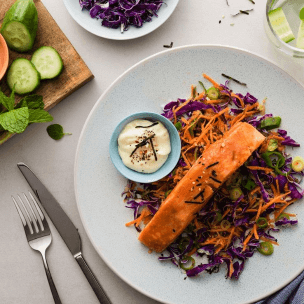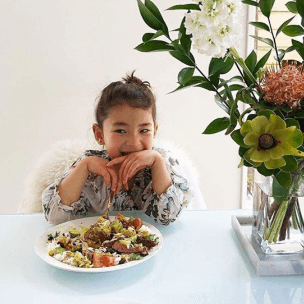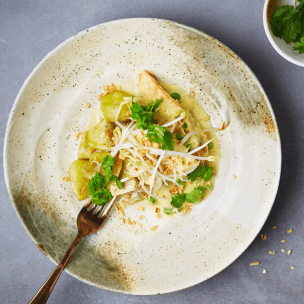 use the hashtag #woopnz to be featured