RECIPE FACT:
Salmon are a kind of "super fish" that can live in both fresh water and saltwater.
Nutritional Info:
Energy: 2731kj (652Kcal)
Protein: 48g
Carbohydrate: 61g
Fat: 26g
Contains: Fish, Soy, Gluten, Sesame
Serving Amount:
Serves 4 people
Cooking Instructions:
Before cooking:

Preheat the oven to 180°C (fan bake).

1. TO COOK THE RICE:

Empty the basmati rice into a medium sized pot with a tight-fitting lid and add 500 mls of warm water. Place pot on stovetop and bring to the boil over a high heat. Once the rice is boiling place lid on the pot and reduce the heat to low and cook for 12 mins. Turn off the heat and let stand for 4 mins covered. Remove the lid and fluff the rice with a fork.

2. TO COOK THE SALMON:

Cut each piece of salmon into 2 pieces. Place salmon in a baking dish lined with tin foil and pull up around the edges. Pour over lime and ginger marinade, turn salmon to coat, leaving skin side down. Place in the oven and bake for 7-8 mins (or 2 mins longer if you like your salmon well cooked).

3. PREPARE AND COOK VEGGIES:

Cut the root off the bok choy and discard and thinly slice. Cut the broccoli into very small florets. Heat 1 tbsp of cooking oil in a large frying pan over a medium-high heat. Once hot add the broccoli and cook for 2 mins. Add the bok choy and peas, cook for 1-2 mins until just cooked. Toss veggies through cooked rice and mix through rice dressing.

TO SERVE:

Place a serving of the rice onto each plate, top with a piece of salmon. Drizzle over any remaining marinade from the salmon tray.
Ingredients
In your box:
1 pack of salmon fillets
1 pot of peas
1 pack of basmati rice
bok choy
broccoli
1 pot of lime and ginger marinade
1 pot of rice dressing
SHARE YOUR CREATION WITH US!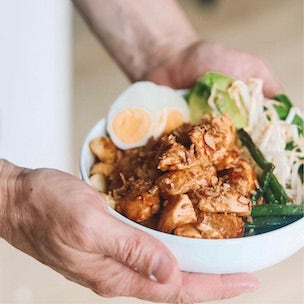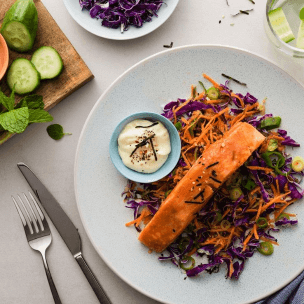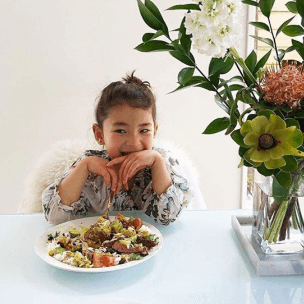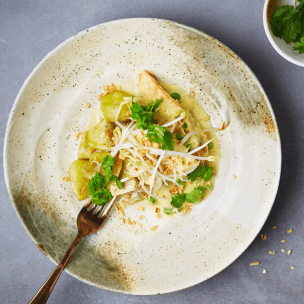 use the hashtag #woopnz to be featured